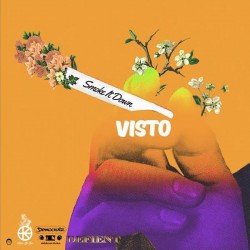 D.C.-area singer and rapper Visto is a conoisseur of chill: He's got the drapey garments, chunky jewelry and overall aura of an erotic yogi. His music tends to follow suit; it's often sleek and watery, with no shortage of come-ons (some subtle, like last month's "What You Need"; others not, like 2013's "How That Pxssy Taste"). But he's always been interested in hooks, and several of his songs come across as a manifesto for his mellow lifestyle.
That's certainly the case with "Smoke It Down," the single the Hippie Life Krew honcho premiered this afternoon via Hot New Hip Hop.
"Oh, we're going to smo-oh-oke it down," he coos on the track, summoning nearby ladies to his zone of chillaxation. "Won't you bring your friends around?"
There's nothing hard-hitting about "Smoke It Down": It's straight-up cookout tuneage, except the smoke it's giving off isn't coming from a charcoal grill. (Also: I may have to retroactively add it to Bandwidth's new playlist of D.C. summer songs.)
Listen to "Smoke It Down," produced by The Democratz, below.