The title of "Go Bi," a new tune from D.C. indie-rock band BRNDA, doesn't falsely advertise: It's a song about bisexuality. But the title alone doesn't tell the whole story.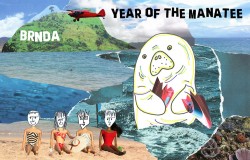 Released on Year of the Manatee, the quartet's forthcoming full-length tape on Babe City Records, "Go Bi" (listen below) finds singer/guitarist Dave Lesser rethinking his sexuality, prompted by complex circumstances — specifically, two difficult relationships. One of his previous girlfriends moved back to the Midwest. Another died of cancer.
"I was thinking… this is really hard," says Lesser, 30, in a phone interview. "Wait a minute: there's a whole segment of the population [men] I haven't even considered. What would it be like if I were to write this character and sing a song about this character?"
So "Go Bi" finds its narrator considering his options. If women aren't working out, what about men?
"Relationships with women always seem to end in disaster/Some run home to Ohio, others, they die of cancer," Lesser sings. "I do not know which is worse, but my friends have found an answer/Master my fears of the other gender and put in for a transfer."
Lesser says that while all of his lyrics originate from some personal truth, his characters can take on a life of their own. That is to say, he didn't actually fall in love with a guy as the song imagines. But he did explore the idea.
Written in 2011, "Go Bi" was originally supposed to appear on BRNDA's first album, but it didn't make the cut. It also had different music at first, according to the band's bass player, John Gardner.
"It's the second incarnation of the song," says Gardner, 35. "[Year of the Manatee] is also a transitional album because it has older songs written by Dave but also newer songs that were written more collaboratively and organically."
As for the lyrics, Gardner says he knows a lot of bi people who feel a bit disconnected from the straight community as well as lesbian and gay communities. He'd like to think of "Go Bi" as a sort of "bi anthem." (Though, not all band members agree the song could be called an anthem for bisexuality or anything else.)
But Lesser's thoughts about the lyrics are still evolving. He says he probably wouldn't write the same song today; he'd be more nuanced and careful about his implications. It wasn't until a recent conversation with Gardner — who identifies as queer — that he gave the tune more thought.
"One thing that never occurred to me was that I could be subtly implying that it is a choice to 'go bi,' and that was never my intention at all," Lesser says. "I would actually feel very bad if it was assumed that someone could just choose to date men or women. But at the same time I was writing it I was thinking, 'Hey, this was a hard time in my life. What if I tried something different?'"
BRNDA plays an album release show July 30 at Black Cat.
This post has been updated to add that not all members of BRNDA agree that "Go Bi" could be called a "bi anthem."