Sara Curtin's second album was inspired in part by an unlikely source: culinary provacateur Anthony Bourdain.
"Garden of Ghosts," a soulful, country-tinged track from Curtin's Michigan Lilium — out July 24 — is about a lot of things: death, rebirth and a certain Midwestern city that's seen better days. The indie-folk artist derived the idea from a Detroit-focused episode of Bourdain's Parts Unknown, in which the celebrity chef visits the former boom town and takes a tour of its urban decay, also known as ruin porn.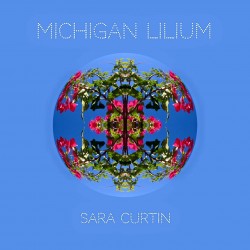 As a University of Michigan alum, Curtin paid close attention to the episode, and she perked up when Bourdain's host pointed out a bright spot amid the abandoned buildings: gardens that bloomed despite having no caretaker. They were called ghost gardens.
One flower in particular thrived in these gardens: the Michigan Lily.
"Even when no one's in the house, no one's at home tending to the garden, these lilies [sprout back up]," Curtin says. "When I looked up photos of these houses, the Michigan Lily is the one that comes back every year super orange, very tall, very bright."
"Garden of Ghosts" is both an ode to these resilient gardens without a master and a rumination on rebirth and creativity. Curtin says that's why she chose backing vocals that felt choral and appropriate for a funeral or memorial. The effect is the opposite of a downer, though. The tune feels spiritual and meditative until it picks up at the 1:50 mark with a swinging beat.
Curtin, who also plays with folky D.C. duo The Sweater Set, recorded "Garden of Ghosts" soon after writing it, laying down the vocals and guitars in her D.C. home and adding bass and drums in Brooklyn with local musicians there.
Michigan Lilium is primarily named after that hearty Midwestern flower, but it also suits the record itself.
"[It's] relating to that feeling of dormancy and that feeling of the seed that's inside you," Curtin says. "It's going to come out, even if you're not tending to it."
Sara Curtin performs Aug. 6 at Rock & Roll Hotel with The North Country and Stranger in the Alps.