Right up there with Mark Andersen and Mark Jenkins' Dance Of Days, Banned In DC is one of the most vivid documents of D.C.'s 1980s punk heyday.
The book first appeared in 1988, two years after D.C. punk rockers Cynthia Connolly and Leslie Clague began to gather stories, images and flyers from people involved in the scene. It proved to be a hit — and they later reprinted it five times, until 2005, when Connolly announced the book's sixth edition would be its last. Its original negatives were just too ancient to be reused, she said.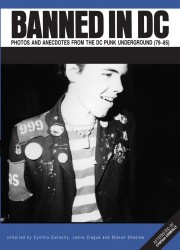 But today, Dischord Records announced that Banned In DC. is coming back. Its seventh edition will be available June 23.
This version will include a couple of significant changes, Connolly tells Bandwidth. Now when you open the book, you'll see a big photo of The Zones' Billy Albert, shot by Jem Cohen in 1979. At the end, Connolly has included a new eight-page afterword that explores the book's origins.
From the afterword, here's Connolly explaining how the book first took shape in 1986:
When I spoke to photographers on the phone, not all believed that I would create a book. Few books existed at this point about any punk scene, so why would DC be among the first? Many couldn't understand why anyone would write a book about something that had happened within the last five years, and that was actually still underway. Some of the photographers who captured the DC punk scene grew so irritated by my repeated requests for them to search their negative archives that they gave us their negatives and told us to print whatever images we wanted.
Connolly and Clague collected roughly 600 images in one year.
Several years after Banned In DC saw its last edition, Connolly began to change her mind about keeping the book out of print. Several other projects had rekindled interest in D.C.'s 1980s punk scene, like the Corcoran's 2013 exhibit "Pump Me Up" and Roger Gastman's book by the same name, Scott Crawford and Jim Saah's film Salad Days and James Schneider and Paul Bishow's in-progress film Punk the Capital. "The Banned In D.C. book should exist," Connolly says she thought. "It shouldn't be something that's out of print forever."
Connolly tried to reprint the work in time for "Pump Me Up," but the project proved to be a "bigger monster than you could ever imagine," she says, and she didn't make deadline. So she took her time reassembling the book digitally, piece by piece, laboring over each detail to get it right.
The publisher and artist sounds happy with the way the final product turned out. She says the new Banned In DC looks nearly identical to its earlier versions.
While Banned In DC has remained out of print, the D.C. Public Library has kept a couple of copies, and Connolly has held on to her own stash, too, just in case a friend wanted one. Previously she'd held off reprinting it, "thinking that surely everybody had their fill of this book," she writes in her afterword.
But "over the years, people just wanted to still see the book," Connolly says. "I was just realizing that it just needed to be done."