Update, June 3: Feedel Band is also scheduled to play D.C.'s Our City Festival on June 5.
Original post:
The Washington region is home to one of the most robust Ethiopian music scenes in the world — possibly second only to Addis Ababa itself — and D.C. Ethio-jazz ensemble Feedel Band includes some of its top players.
Feedel saxophonist Moges Habte and bassist Alemseged Kebede are well-known for their work with Walias Band, a group that thrived during the height of the Addis jazz scene in the 1970s. (Also in Walias was Hailu Mergia, a D.C.-area cab driver whose music career found its second wind in 2013.) Both Kebede and keyboardist/bandleader Araya Woldemichael have performed with huge acts including vocalist Aster Aweke, who's been called "Ethiopia's Aretha Franklin."
But it's easy to catch Feedel Band ("feedel" means "alphabet" or "letters") playing a casual gig around town. The group performs on the first Thursday of each month — sometimes with cameos from notable Ethiopian artists — at Bossa Bar and Lounge in Adams Morgan.
When the band stopped by WAMU in November to play two songs for Bandwidth, it was one of the most hectic sessions we've produced yet. Band members and instruments were everywhere. It felt chilly outside but balmy in the studio, with 10 musicians, three videographers, one photographer and two engineers sharing the cramped space under hot lights for hours. But in the end, the chaos felt worth it.
Feedel recorded two Woldemichael-penned songs in the studio that night: "Girl From Ethiopia" (with guest vocals from the bandleader's nephew, Dibekulu Tafesse of Jano Band) and "Ethiopian Ocean." I asked Woldemichael how both compositions came together.
The simmering "Girl From Ethiopia" is a love song. "I wrote [it] for my beautiful wife," Woldemichael emails. "We all must show our love for the wives in our lives, and I'm lucky enough to combine two of my favorite things in the world: love and music."
Meanwhile, "Ethiopian Ocean" is more of a history lesson. It stemmed from Woldemichael's discovery that the body of water now called the South Atlantic was once called the Ethiopian Ocean.
"You can clearly see the name Ethiopian Ocean that was used for thousands of years," Woldemichael writes. "I said to myself, 'This doesn't make any sense… I have to do something about it.' A lot of my people didn't know about this great history. History is extremely important. Imagine if someone [took] from you … everything you knew about life up to last week, and just erased it. Where would you be? You would be lost."
It's tempting to get lost in the two songs Feedel recorded for us — but if you pay attention, you'll notice the band is a carefully calibrated machine. Study that rhythm section. It's locked in. And don't forget to bend your ear toward the two traditional players in the room: Minale Bezu on krar and Setegn Atenaw on mesenko.
Above, listen to Feedel Band play "Girl From Ethiopia" live at WAMU. (Things get really wicked around 1:39, so your patience is worthwhile.) Then immerse yourself in "Ethiopian Ocean," below.
But the best way to experience Feedel Band is to catch the ensemble live. Their next monthly gig at Bossa arrives on June 4.
Want to follow Bandwidth's newest videos? Subscribe to our channel on YouTube. Special thanks to Brendan Canty for mixing both "Girl From Ethiopia" and "Ethiopian Ocean."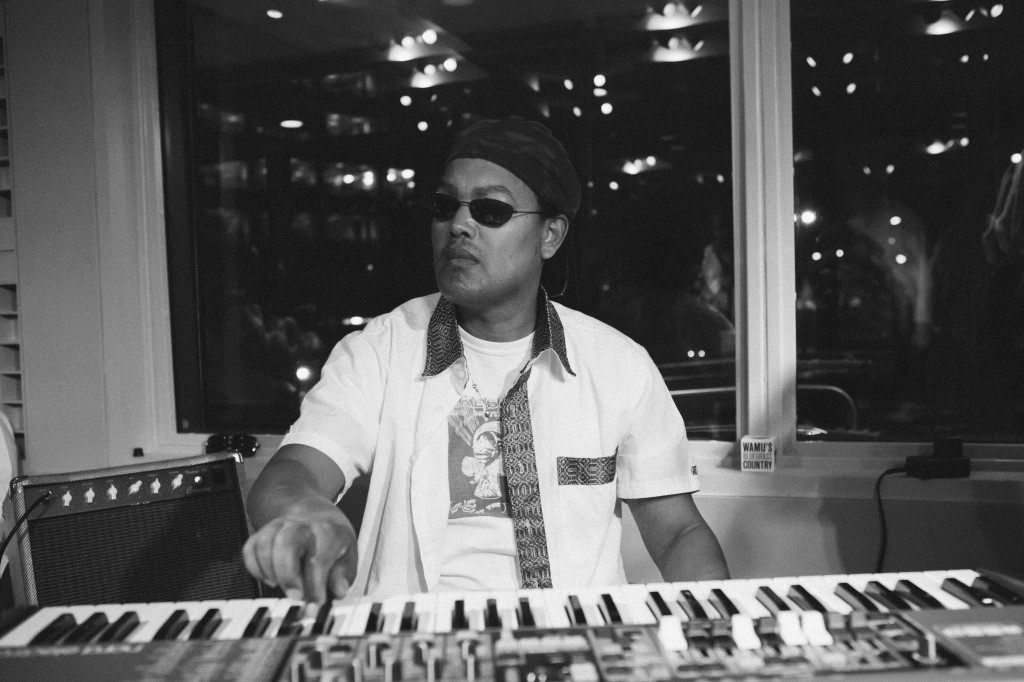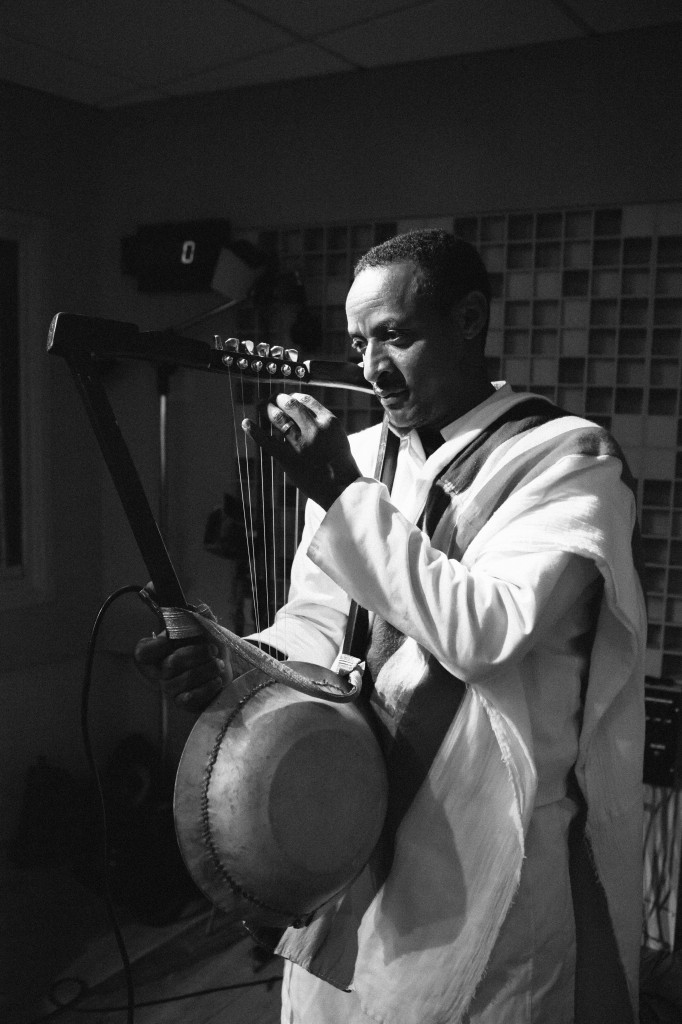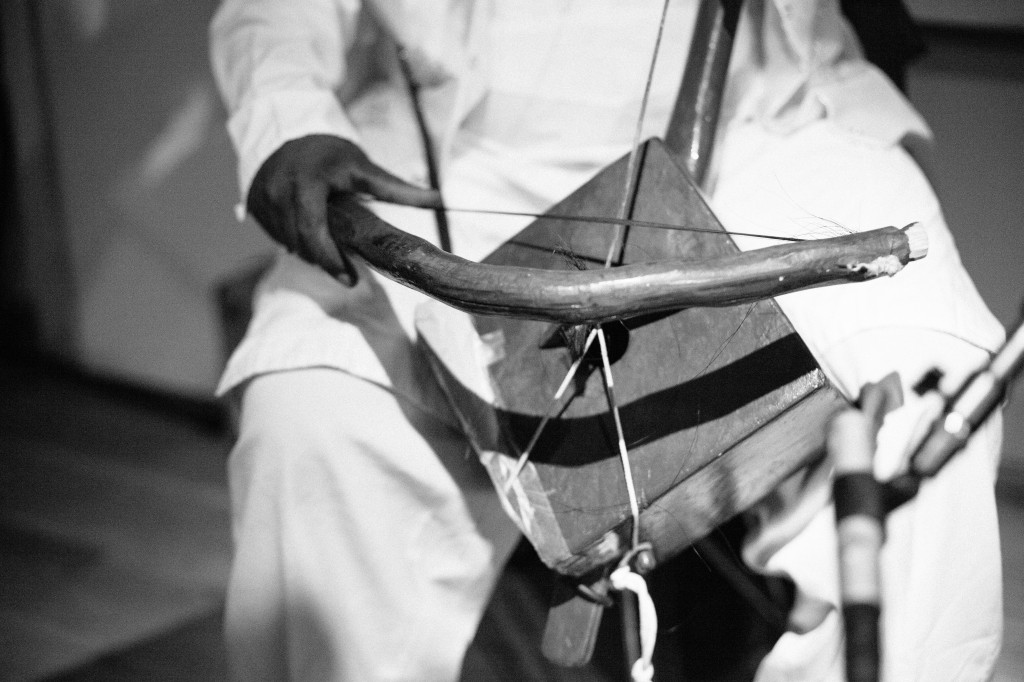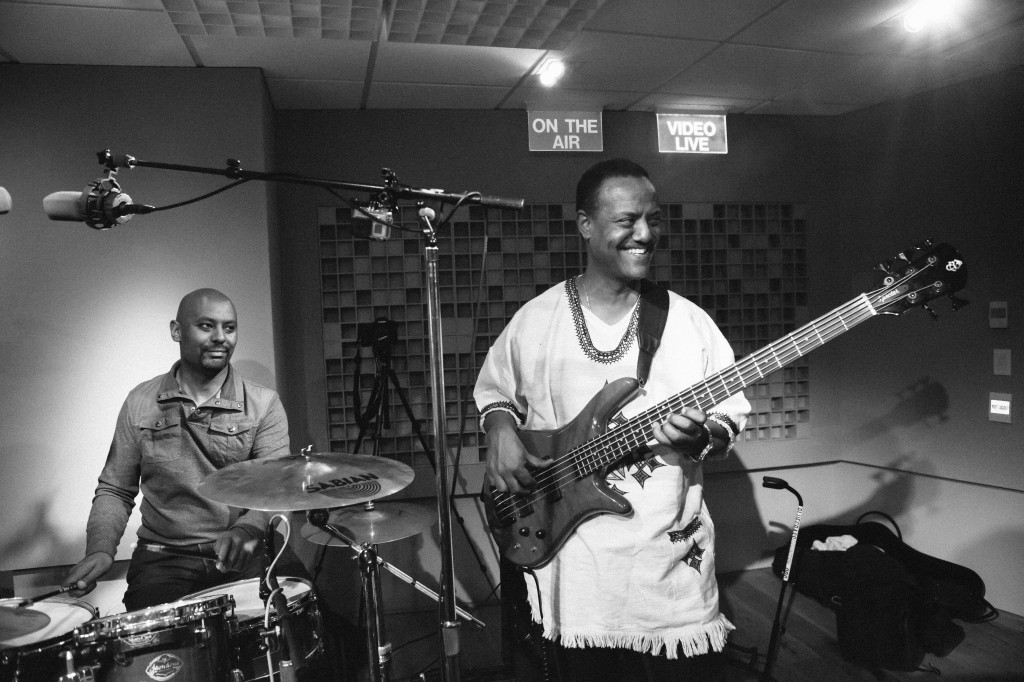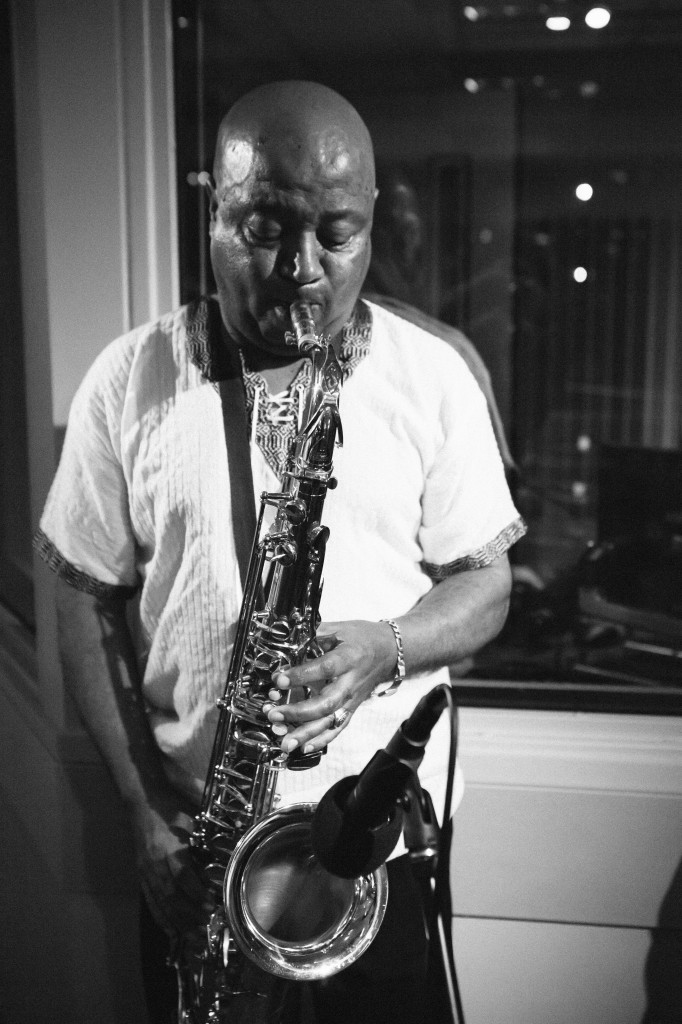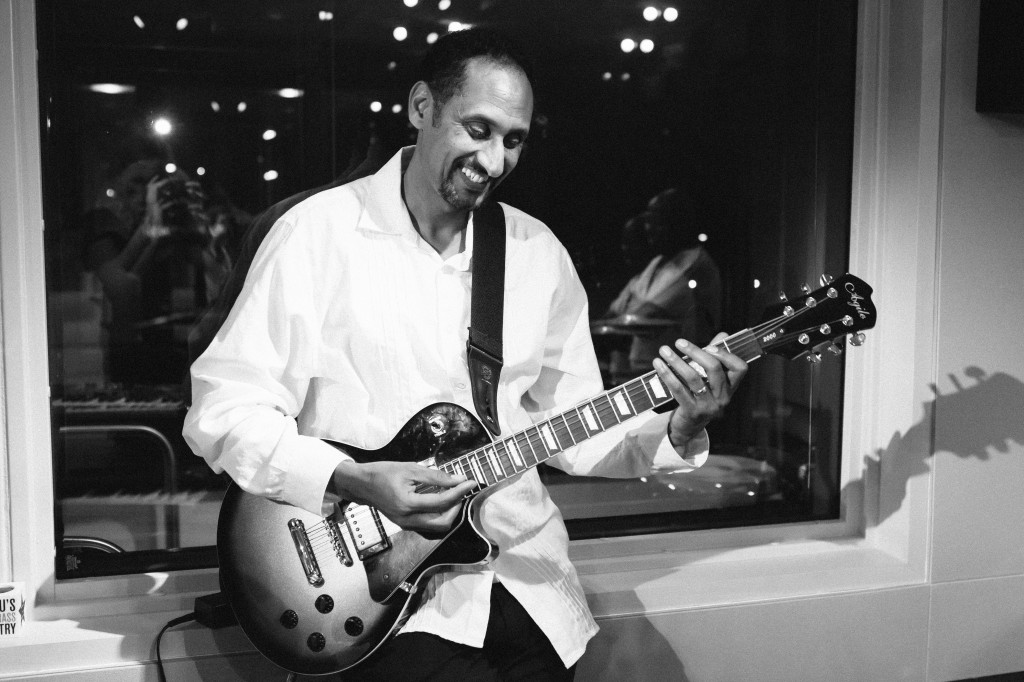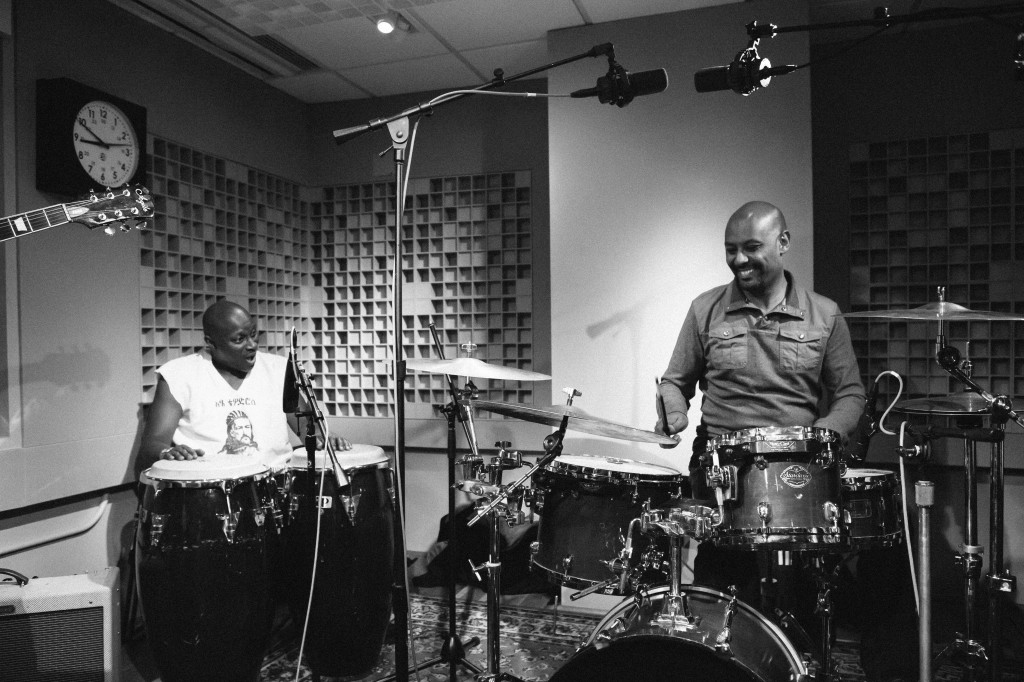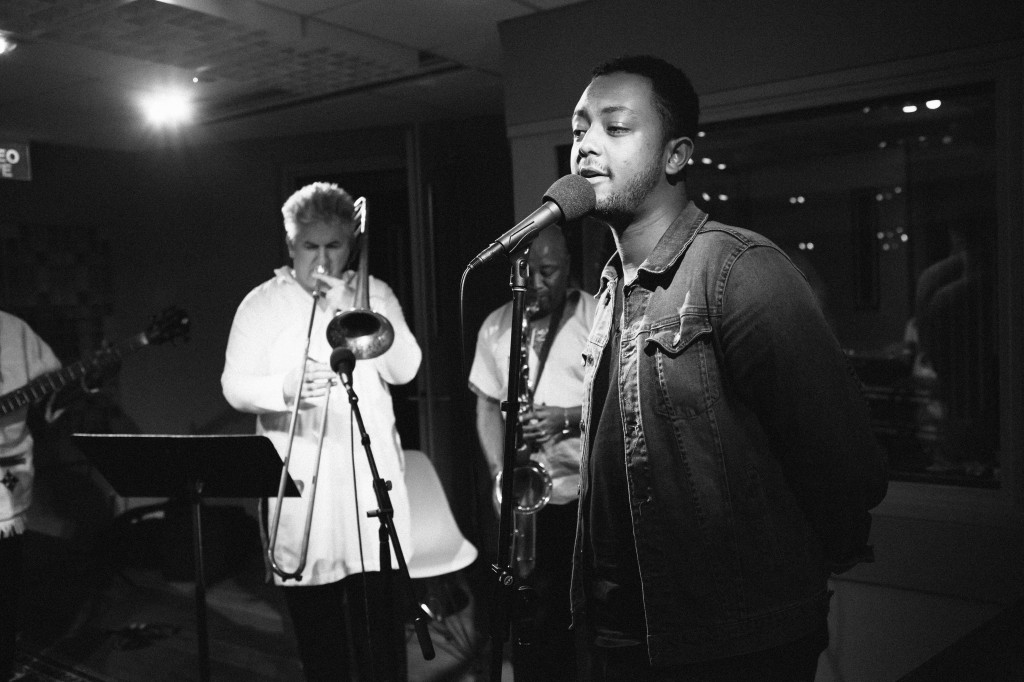 Photos by Rhiannon Newman for WAMU