Made up of former players in Minor Threat, Youth Brigade, Swervedriver, The Saturday People and Julie Ocean, Dot Dash has been around the block. But that doesn't mean it's run out of ideas: The D.C.-based quartet has been cranking out new music at a quick clip, releasing four albums of swoony, melodic pop in as many years.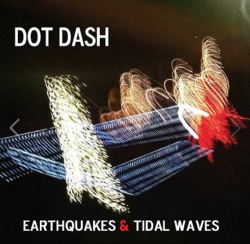 But "Walls Closing In," a standout from Dot Dash's latest album, Earthquakes & Tidal Waves, is a change of pace. (Listen below.)
"It's kind of the heaviest song on the record, and probably the heaviest song that this band has ever done," says guitarist and vocalist Terry Banks, 50, who's played in Glo-Worm, Tree Fort Angst and St. Christopher in addition to The Saturday People and Julie Ocean. (Dot Dash's other guitarist, Steve Hansgen, once played in Minor Threat.) "I'm not saying it's some incredibly visceral thing — music gets a whole lot heavier than that. But for us, it's pretty heavy."
By contrast, other album cuts sound almost sweet.
"The song before it ["Tatters"] is a very light, jangly pop song, so I felt like the obvious thing to follow it up with would be the heaviest song on the record," Banks says. "And it's not like this cliché of ending the album with the heavy rocker. It's kind of right in the middle, and maybe it forms a midway point or apex or something like that."
But despite being heavier than the rest of the album, "Walls Closing In" is undoubtedly the work of Dot Dash — which is to say, it's a shrink wrap-tight pop song.
As for the song's lyrics, Banks isn't getting too bogged down by details. "I don't feel like any songs that I ever come up with are necessarily specifically about anything," he says. "They're kind of arrived at in a sort of instinctive way."
Rather than moving from one concrete point to another, a lot of Banks' lyrics tend to be semi-impressionistic, drawing from a stream-of-consciousness writing style. He says that he tends to feel like songs come out of thin air, "but then I'll realize that that chorus or that phrase sort of relates to some passing thought or some conversation I had."
But before you try to start ascribing meaning to Banks' lyrical style, he makes one thing clear: "We have no message, there is no message." Dot Dash songs are open to interpretation that way.
"The message is whatever you take from it," Banks says.
Dot Dash plays an album release show at Comet Ping Pong Friday, April 24.