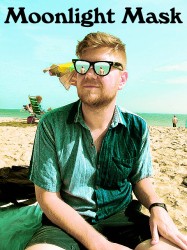 Back home in Minneapolis, Anders Carlson made fuzzy psych-pop with his band Love Lake. But when he headed to Takoma Park to accompany his graduate school-bound girlfriend, he brought that sensibility here, where he's been making memorable bedroom pop as Moonlight Mask.
I first spoke to Carlson in late 2013 when I wrote about one of his early Moonlight Mask songs, "Palm Bay," for Washington City Paper. He'd cobbled together the chunky tune using a Ryan Hemsworth drum sample for a Levi's-sponsored online contest. He didn't win, but no matter — that song will live on via Moonlight Mask's self-titled debut album, out May 1.
Mildly kooky and thoroughly distorted, Moonlight Mask's debut has as many highlights as it has hooks — I'm particularly big on "Bao Bao's Birthday," a tribute to one of D.C.'s pandas-in-residence. In an email, Carlson says that track's about "longing for a phone call from his girlfriend abroad" on the giant panda's special day.
About the record, Carlson writes, "There are radio hits, but there is a lot of darkness and weirdness going on here. It's all accessible and easy to swallow, but there's a lot of buried treasure to uncover if you wanna put on some good headphones, close your eyes and zone out on your mattress for 45 minutes."
Carlson has never performed his recent material live, but tonight he plays his first gig as Moonlight Mask at Joe's Record Paradise in Silver Spring. (He says to expect just one or two songs from the record "because I really feel like those songs need a full band.") He says he's also been filling in on bass with promising Maryland R&B duo April + VISTA, whose debut EP arrives tomorrow — March 31.
Stream Moonlight Mask's debut via Bandcamp, below, and look out for it on May 1.
Moonlight Mask plays Monday, March 30 at Joe's Record Paradise in Silver Spring.