Old Indian doesn't have any highfalutin ideas about its music. The fuzz-rock band from Frederick, Maryland, is focusing on the basics.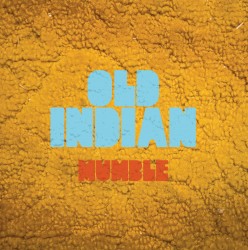 That's clear on "The Riff," a standout from the trio's recent full-length debut, Mumble.
"It's about skateboarding," says Cory Springirth, the band's 26-year-old guitarist and vocalist. "Well, trying to go skate and then having it rain on you."
If this sounds rather straightforward, that's because it is. "All the lyrics are pretty literal, but they can apply to anything in life," Springirth says. "I put thought into my lyrics, of course, but I don't try to sound, like, artsy or make people think or whatever. We just like being simple about things, which I really like in the band."
Musically, "The Riff" is pretty simple, too, in line with what listeners can expect from Old Indian. "We do this in a couple of songs," Springirth says, "where it's really fast at first, and then it kind of slows down and gets kind of Sabbathy."
But Springirth is quick to point out that "The Riff" stands on its own, as do all of the other tracks on Mumble. "It's only an eight-track album," he says, "but we wanted to have a lot of different types of songs." Citing examples, he points to the band's surfer-rock track "Just A Bum" and its Spanish guitar-inspired "Spanish Blues."
"I don't like when every song on the album sounds too similar," Springirth says. "Of course I want you to know what band you're listening to, but I try to not write anything too similar."
Perhaps what truly sets apart "The Riff" from the rest of Mumble is its wailing coda. "I tracked two solos at the end, and then put them on top of each other, and that just ended up sounding all right," Springirth says. "They're slightly different, but they complement each other."
With all the pieces put together, "The Riff" manages to sound both familiar and fresh.
"Of course we want to be original," Springirth says, "but we don't want to be so far out there that we don't relate to anyone. We just play music that we like."
Old Indian plays March 20 at Ottobar in Baltimore, March 26 at Windup Space in Baltimore and April 4 at The Faux School in Frederick.