The second in an essay series by The Max Levine Ensemble's David "Spoonboy" Combs. Read Part 1, "These Are The Real Costs Of Going On A DIY Tour."
"DIY." It's a term you can stick in front of any music genre to indicate a way of doing things. It doesn't describe a particular sound. It doesn't just mean "punk." Really, it's just the idea that we musicians don't need the backing of the music industry to make music. We can and should seize the means of production. We should do it ourselves.
In 2015, doing it ourselves is easier than it's ever been, thanks to technology that eliminates barriers between musicians and listeners. But today's crowded creative environment has also prompted artists to begin rethinking the way they define and practice DIY.
What are the boundaries of DIY? Are you doing it yourself if you've hired someone to do publicity for your band's tour? What if someone booked the tour for you? Is playing a traditional music venue DIY, or do you strictly play houses and nonprofit show spaces? At what point does the stability of your project depend on outside involvement?
When considering the costs of DIY touring, bands often bump into and wander back and forth across these ill-defined boundaries. They ask themselves questions like, "What effect does it have economically and experientially to hire a booking agent?" and "To what extent should courting media coverage factor into our tour budget?"
I don't have answers to these questions. But I chatted with several musicians who have been mulling them over while they attempt to produce and share their music in a sustainable way. Here's what we talked about.
Publicity
The ups and downs of playing the promo game
Artists have an incentive to get out the word about their shows: They want people to see them play. But first, people have to know about the show.

Good ol' word-of-mouth can go a long way, but in a world where Facebook and Google algorithms dictate who sees what about which bands, having the endorsement of reputable music blogs seems to play an increasingly large role in artists' promotion strategies.
The problem is DIY publicity is next to impossible. Media outlets are bombarded by tons of press releases and inquiries every day. Necessarily, some of them are more likely to check out music sent by entities they already know or trust, and often, those entities are PR companies.
That means that even DIY labels and artists will sometimes a hire PR firm to promote a record or tour. Daoud Tyler-Ameen of D.C. indie-pop project Art Sorority for Girls says pro publicists try to strike a balance between inundating and intriguing media stakeholders with pitches for their clients' music.
"They will spend a year building it up in such a way that you keep getting hammered with the name," Tyler-Ameen says. The goal is that "the media coverage rolling up to a release is spaced apart far enough and novel enough each time that you don't get sick of it."
Confusingly, though, sometimes publicity just happens on its own.
"People think, 'Oh, they're doing fine. They got written about in Rolling Stone.' But that doesn't translate to money. It's a cool thing to show your parents, but it's not a real, actual thing." — Sam Cook-Parrott of Radiator Hospital
"We played mostly local shows for the first year of us being a band. Then someone from Pitchfork and someone from Stereogum each wrote about our band, and suddenly it was like, 'Whoa, a lot of people know about us!'" says Amanda Bartley, who plays in Columbus, Ohio, band All Dogs. "We had a lot of people contact us about doing PR stuff for us and we haven't pursued any of that, which is kind of a testament to the Internet doing that for us."
But the fickle Internet is nothing to bet on. Waiting for accidental exposure can be like playing the lottery. Jeff Rosenstock, formerly of Bomb the Music Industry, has been touring in bands for 15 years. Despite various other measures of success, he rarely used to catch any attention from music blogs.
Rosenstock told me last fall, "I don't know what blog buzz is like. I bet it's awesome."
That changed this year, when Rosenstock put out a record on a label with an in-house publicist. Quickly he found himself written about on Consequence of Sound, Noisey, Stereogum, A.V. Club and Spin.com, just to name a few.
But getting attention in the music media can lead to an inflated outside perception of success, says Sam Cook-Parrott of Philadelphia's Radiator Hospital.
"People think, 'Oh, they're doing fine. They got written about in Rolling Stone. Don't f*****g worry about it.' Does success mean getting written about in a cool blog or in Rolling Stone? Because what does that mean? That doesn't translate to money," Cook-Parrott says. "It's a cool thing to show your parents, but it's not a real, actual thing."
Plus, there's a feeling among some bands that the promo cycle can lend an empty glaze of marketing to the art of writing and producing music.
"I think that bands are way more short-sighted than they used to be," Cook-Parrott says. "It's like with blockbuster movies and it's all about the opening weekend. That's not how making a record should be."
Booking Agents
When they're cool (and when they're weird)
There was a time when hiring a booking agent was considered the definitive line between whether a band could be called DIY or not. But putting together a tour can be draining for bands, particularly in the DIY world, where booking networks are informal and constantly changing. The time and energy that goes into organizing a tour can feel like a full-time job, which is especially tough for musicians who already have one.
Tyler-Ameen, who works full time, says he felt exhausted by booking two of his own tours in 2014.
"They kicked my ass," Tyler-Ameen says. "It really did feel each time pretty consuming, where I would get out of work and go and send emails until I was tired. And that was the case for weeks. Which doesn't seem sustainable."
Katie Alice Greer, who sings in D.C. punk band Priests, writes in an email that her band's decision to work with a booking agent had a lot to do with time management — particularly making time to earn money.
"I had a very low-cost living situation and a job with flexible hours [in 2013]," Greer says. That meant she and Priests' drummer were able to book most of their tours themselves. But when they both had to ramp up their work schedules, she says, they hired a booking agent.
"House shows are always a lot more fun while you're playing. But sometimes on tour I don't want to have a meet-and-greet every single day." — Gabrielle Smith of Frankie Cosmos
"It certainly helps to have an extra head (with a lot of experience) involved in the process of mapping out a tour that will make sense," Greer writes.
But some DIY bands choose a combined strategy: They book some of their own shows, and leave others to a professional. That's the method familiar to Gabrielle Smith, who plays with indie bands Eskimeaux, Frankie Cosmos, Bellows and Told Slant. Two of her bands book their own tours and two work with booking agents. When those worlds meet, she says things get a little strange.
"It totally is weird when we play a house show and the booking agent asks for a W-2 and a headcount," Smith says.
When bands work with professional bookers, they're more likely to play commercial spaces like bars and clubs, and that transition can be a little jarring. For one thing, there's an experiential difference between the two kinds of shows.
"House shows are always a lot more fun while you're playing. The entire interaction beforehand can be really amazing and really warm and welcoming, but also can be really uncomfortable," Smith says. "Sometimes on tour I don't necessarily want to have a meet-and-greet every single day. On that level, having the booking agent and playing at a place that's not a house every single day can be more comforting."
Then there's the question of how money is handled.
"The houses don't take money most of the times, and a bar will. Or they'll say, 'We're gonna give you $100′ and maybe they make more, but you've agreed to that amount," Cook-Parrott says. "A house show is pretty clean. They tell you, 'This is the money we made' and sometimes it's way more than you'd ever make if you just played some $100 guarantee show at a bar."
When playing house shows is working optimally, it can feel magical, like an alternate economy worth putting faith in. But it's also precarious.
Smith describes a common experience of playing a house show, where no effort is taken to collect money at the door: "They give you $10 or $15, and they're like, 'Hope this is enough. Thanks for playing. Bye!'"
If no explicit financial arrangement has been made, there's not much you can do but fill your gas tank up one eighth of the way and hope the next show pays better.
Talking About Money
Mum's the word
Sometimes income itself isn't the only economic obstacle to a DIY tour. Conversations about money — or the lack of them — can be a huge factor in a tour's economic success.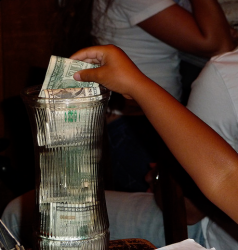 Bands can feel uncomfortable talking about money with show promoters, especially when they're relying on an informal network of people exchanging favors. Take Bartley, who says she didn't talk to anyone about money before booking her most recent tour.
"I just kind of assumed that everyone I talked to was kind of on the same page," Bartley says.
But that assumption can leave musicians vulnerable.
"When it is uncomfortable, I remind myself that it is absolutely necessary," says Greer. "I will not be in a position where I am not paid fairly because money was not explicitly discussed."
Rosenstock says he has a way of conducting conversations about money on the road.
"When we would play house shows, I'd talk to the people at the house beforehand and be like, 'Hey, I don't wanna be a d**k, but I think somebody should be at the door making sure everybody gives six bucks or five bucks or whatever it is," Rosenstock says.
"When [talking about money] is uncomfortable, I remind myself that it is absolutely necessary. I will not be in a position where I am not paid fairly because money was not explicitly discussed." — Katie Alice Greer of Priests
He thinks money at shows should be going toward bands, not beer for the party. "I'd rather that money be able to sustain us to go on tour again next year than for that money to fuel this 'You need alcohol to party so put another bunch of dollars in this huge company' thing. Don't you think it would be nicer if we got that money tonight instead of Anheuser-Busch?"
Rosenstock says that approach has worked for him. "I would never, ever ever get a response that was like, 'F**k you.' It'd always be like 'Yeah, you're right. Totally.'"
Still, hiring someone else to handle the money side can be a sufficiently attractive reason for some musicians to work with a booking agent.
"We're all very polite people, so we're not that good at getting paid maybe what we know certain places have budgets that they can afford to pay us, and we've definitely been shorted in a lot of ways," Smith says of her bands. "With the booking agent it's always pre-arranged. There's a guarantee or a very specific percentage that we'd get of the door … and if they tried to give us less, we had the backing of someone else."
Guarantees Vs. Door Deals
Punkonomics!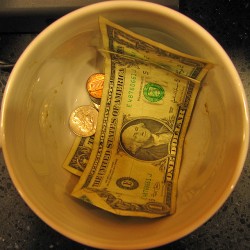 When a venue commits to paying a band a certain amount of money no matter how many (or few) people come to see a show, that's called a guarantee. They can be pragmatic. But they're also deeply stigmatized in the punk and indie-rock scenes.
In a network of show promoters where anti-capitalist (or at least anti-commercial) ethics have been central to their community identity, it can come across as arrogant to demand a fixed amount of money to play a show, especially if that means a promoter will be paying out of pocket at the end of the night.
On the other hand, promoters don't always understand the costs of tour — or worse yet, they do understand and still pay too little. A guarantee can offer protection against that.
"The guarantee is set in place so [bands] are able to sustain a tour and are able to do future tours. It's taboo in the punk scene to even consider something like that." — Chris Moore of Coke Bust
But Rosenstock says that politics aside, some bands are better off doing a door deal.
"Say you're asking someone who runs a house," he says. "You're like, 'Hey, we have a $250 guarantee,' and you bring, like, 10 people to the show. That promoter's going to be like, 'OK, I'll pay this band 250 bucks, but I'm never gonna book them again because this was a nightmare.'"
Guarantees are typical when bands work with a booking agent. Professional bookers tend to prefer it that way so they can assure their own percentage and a cut for the band. But if the booker's only criteria is a venue that will agree to a guarantee, other important factors like finding the right place for a band's audience can fall by the wayside.
"I played in a band for a little while and we did a big tour and it was booked by this guy. We played shows every night, and we played $100 guarantee shows that no one came to. If we would have booked the show ourselves, a bunch of people would have come," Cook-Parrott says.
So on Radiator Hospital's last tour, the band did things differently.
"We did it all ourselves and the shows were consistently f*****g awesome. Because we were communicating with our friends and with people who understand our music," Cook-Parrott says. "Not just the dude at the bar down the street who needs to fill entertainment every night."
Chris Moore, who plays in D.C. hardcore bands Coke Bust, Sick Fix and DOC, says none of his bands have a guarantee. But he doesn't fault anyone for having one because guarantees serve a purpose.
"The guarantee is set in place so they are able to sustain a tour and are able to do future tours," Moore says. "It's taboo in the punk scene to even consider something like that."
* * *
Regardless of where bands stand on booking agents, publicists, bar gigs or guarantees, sustainability is the key issue in these conversations. Few people in the DIY music community expect to strike it rich, but when pursuing music is keeping musicians broke, considering compensation for their labor comes into focus.
To what extent should music be the labor of love it's widely understood to be? In the face of a music economy that's being reshaped on every level, to what degree can musicians expect to be paid to keep making music? And what happens when the answers to those questions mean the difference between having a band and not having one?
We're still talking about it.
Stay tuned for Combs' next installment in a series of essays about the DIY music economy. Read Part 1, "These Are The Real Costs Of Going On A DIY Tour."
Photos, from top: Young Trynas at the Dougout, July 2014; modified iPad email inbox used under a Creative Commons license; Swimsuit Addition at the Rocketship, July 2014; modified donation jar used under a Creative Commons license; donation bowl used under a Creative Commons license.