Todd Hyman is a 41-year-old dad who lives in the wealthy D.C. suburb of Bethesda, Maryland. He has four kids — assuming you count his label, Carpark Records, as a child.
Hyman started the cool indie label in New York in 1999 and brought it to D.C. six years later when his wife got a job at the National Institutes of Health. He's been in the area ever since, long enough to celebrate his label's basketball-themed Sweet 16 at DC9 this weekend. But there's no guarantee he'll stay awake for the whole thing.
"My brain stops working at about 8:30," Hyman says in a phone call. "As long as I'm home by, like, midnight, I can sometimes go out."
Not that Carpark could ever be called a "dad rock" label. Best known for its work with Toro Y Moi, Beach House, Speedy Ortiz and sister labels Paw Tracks (for Animal Collective projects) and Acute (for post-punk reissues), Hyman's imprint seems as experimental as it ever was, which might become clear when you look at its forthcoming "Sweet Sixteen" picture disc: The slab has 28 tracks, most of them locked grooves. Cheeky.
But Carpark has certainly grown up. I first spoke to Hyman 10 years ago when I was booking Paw Tracks bands Ariel Pink and Animal Collective for a festival at my college. He served as my point of contact, sending me specs on their stage plots and Ariel Pink's diet restrictions (no dairy). These days, Hyman doesn't do that kind of granular work for his artists.
"I guess the majority of our bands have booking agents at this point," Hyman says. "But back then, I was really doing everything."
That includes buying a full array of gear for Ariel Pink in 2004, back before the eccentric pop wizard had any of his own.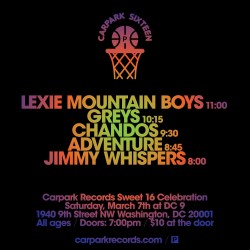 "They were playing a show at Tonic [in New York], and they needed gear, so they asked me to buy them some," Hyman says. "We went up to Times Square and went to one of those music shops. … We were buying a guitar amp. I think maybe they bought a guitar. I remember the guy was checking us out, and he was like, 'So you guys startin' up a band?' I was like, 'No, they're playing a show tonight.'"
Hyman doesn't seem bummed about picking up the tab — those early Ariel Pink records finally made money after a couple of years, he says.
That's how he's kept Carpark rolling since 1999, Hyman says: by striking a balance.
"Running a record label is a lot like gambling. Sometimes you win some, sometimes you lose some, and I guess the ones that survive, we're luckier than others," Hyman says. "It's a lot about being at the right place at the right time, or just picking the right bands. We've been fortunate enough to have a few successes over the years, and it's allowed us to keep going."
Panda Bear's Person Pitch is Hyman's biggest success yet, selling more than 100,000 copies worldwide via Paw Tracks, he says. Beach House's Devotion, Toro Y Moi's Anything In Return, records from Dan Deacon, Animal Collective, Ariel Pink, Cloud Nothings and Speedy Ortiz have all fared well. He's licensed music from Dan Deacon and Class Actress for commercials and TV shows. That all helps him stay in business, letting him hire staff, start Company Records with Toro Y Moi and afford life in one of the most expensive locations in America.
But Hyman has considered shutting down Carpark before.
"There's been a few times over the last 16 years where I've felt a little directionless, and wasn't sure why I was doing it or what I should be putting out," Hyman says. "Right before I moved down here, it was one of those periods where I had started Paw Tracks and Acute, and I wasn't sure what to do with Carpark."
Baltimore artists like Dan Deacon and Beach House basically saved Carpark from oblivion, Hyman says. "I found new direction and energy down here, getting involved with dudes in Baltimore."
Today, the Carpark family has a lot to offer signees, Hyman says, even though his labels are still pretty small. And like any label owner — or father — he doesn't like to lose members of his flock.
"I do find it upsetting when a band decides to leave us, because I feel like it's unnecessary. I feel like we have all the ability and opportunities that a bigger label has, so it just doesn't make sense to me," Hyman says. "I'm often frustrated by the predatory nature of some record labels out there."
So how does a little shop like Carpark keep its signees happy? Does he reward loyal artists like Toro Y Moi?
"I don't know about 'reward,'" Hyman says. "With Toro Y Moi, we're good friends and we've worked together a lot over the years, and we trust each other. It's not like he wakes up on his birthday and finds a BMW in his driveway with a big red bow on it."
Then again, buying all that gear for Ariel Pink may have set a precedent. Right?
"It was recoupable," Hyman chuckles. "I don't usually do that. That was a one-time thing."
The Carpark Records Sweet 16 Celebration starts at 8 p.m. Saturday, March 7 at DC9.