First off, let's get one thing straight: Don't believe anybody that calls Prinze George a Brooklyn band.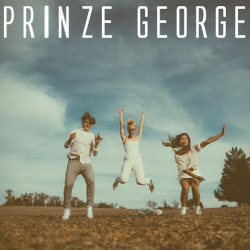 Sure, the trio went north to try to take itself to the next level, but September 2014 saw all three members — Naomi Almquist, Kenny Grimm and Isabelle De Leon — back in the D.C. area, living up to their moniker, a reference to Prince George's County, Maryland.
Almquist, who sings, is from Mount Rainier. Damascus/Gaithersburg native De Leon — the group's sole Montgomery County representative — plays drums. Grimm, who handles non-drum instruments and production, is from College Park. Both he and De Leon attended University of Maryland there. TL;DR: The local ties are strong.
Prinze George moved back to Maryland to help the trio focus on touring and recording. "It just made sense to come back here, and we're happy to be back, representing Maryland where we're from," says Grimm.
Tuesday saw the release of Prinze George's self-titled debut EP. It features beautifully bittersweet track "The Writer," a song that Almquist wrote about complicated family feelings.
"I wrote the song about family relationships and kind of the darker side of that," Almquist says. "I feel like there aren't too many songs about that and I wanted to create one."
On "The Writer," synth swells envelop Almquist's expressive, melancholy vocals. Grimm says they "tried to commit to that dark, ominous overtone" after developing the song's meaning.
While the band recorded "The Writer," it really was living its truth: Almquist's mother contributes vocals, which weave in and out of the track with plenty of intensity. Her mom is an opera singer, she says. She taught Almquist most of what she knows about singing. Almquist knew she needed to use those powerful pipes in her band's music, and including them on a song about the simultaneous goodness and weirdness of family ties only made too much sense.
"It was really cool to collaborate with her and to address the complexities of our relationship," Almquist says.
That's not the only family link on the band's new EP, though: Prinze George recorded the release in De Leon's dad's basement. "I guess it was an all-around family affair," Grimm says.
Almquist says making the recording could be both wonderful and awful, as one might expect — and that may help explain why they just finished recording their next release 1,000 miles away from home, in Minnesota.
Prinze George plays an EP release show Friday, March 6 at Rock & Roll Hotel.