"Love In Her Lies," a new song from D.C. neo-folk songwriter Tomás Pagán Motta, starts off quiet and introspective. But it doesn't stay that way for long.
On the sixth track from Motta's self-titled album, out Tuesday, an acoustic guitar and vocals are quickly joined by a string arrangement, building toward a shapely, spectacular peak.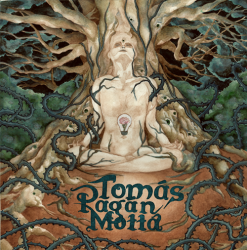 The 32-year-old songwriter, formerly of The Petticoat Tearoom, says the song emerged from the beginnings of romance.
"What I was feeling at the time was going through a new relationship, and sort of judging the person," he says. "Judging in the sense that you're diving deep into somebody and unlocking things, and in turn you're unlocking things in yourself."
When writing, Motta felt driven by the notion of space. "Space so that the listener can create things for themselves," says the Mount Vernon Square resident. "I think with that song, we accomplished a lot of space. And there are swells, like a parabola of mood and sound."
Motta says his songwriting is also dictated by a compulsion to improvise. "I'm sort of notorious for having one or two rehearsals, and then embracing the improvisational quality of performance," he says — and that wouldn't be possible without his collaborators. "I play with incredible musicians. They know the melody and the structure, and then I'm free to go where I want to go on stage."
Recording the entire album live at WrightWay Studios in Baltimore, none of the players Motta recruited had met before. He recorded his parts on his phone before passing them off to Joseph Martone, who collaborated with Motta on the string arrangements and plays upright bass on the record.
After transposing the string arrangement onto the initial recording, Motta distributed the track to the rest of his players — violinist Audrey Hamilton, cellist Devree Lewis, pedal steel player Dave Hadley and percussionist Michael Scerba — then "we jumped in the studio and recorded it live in, like, an hour," says Motta. "It was quite an experience."
To Motta, the song's most important feature may be the fact that it leaves itself open to interpretation. "Even though this is an extremely structured song, the listener is going to arrive at their own conclusions," he says. "That's what I love about songs."
Tomás Pagán Motta plays March 13 at Rock & Roll Hotel. He's currently running a Kickstarter campaign to help fund his national tour.