When the members of Coup Sauvage & The Snips get angry, they grab a microphone.
The D.C.-area dance-punk band did it on last year's "(Don't Touch My) Hair" and the witty, suspicious "Sneaks." But last summer, the slaying of teenager Michael Brown urged the quintet toward its strongest statement yet.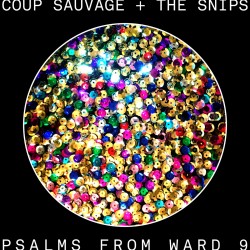 "We were preparing for a show at the Black Cat right when things exploded in Ferguson," the band writes collectively in an email. "We were outraged, we were devastated, and we knew we had to say something."
So the ensemble started brainstorming a song. At first, they wanted to go hard: They considered covering Body Count's "Cop Killer" or NWA's "F**k the Police."
"But real talk, some of us have security clearances to protect and families to feed, so that was out," the band writes.
That's when "Requiem For A Mountaintop" began to take shape. Member Maegan Sauvage played the band a beat she'd been building, and bass player Elizabeth Sauvage started singing, "Hands up, don't shoot" to the beat. "Next thing you know, the Snips start harmonizing," they say. One-and-a-half practices later, they had their newest anthem.
"It's probably the song we put the least amount of hours into, but the rawest emotion into," writes the ensemble. It was also intended to be a one-off. "We were planning to sing it at the Black Cat show, say our piece, and that's it. But then we were scheduled to play in New York right after the Eric Garner verdict, things exploded all over again, and we realized we had to revisit the song."
"Requiem For A Mountaintop" is now the throbbing centerpiece on Psalms From Ward 9, Coup Sauvage & The Snips' new EP. The Maryland- and D.C.-based outfit plays a release show Saturday at the same place the song was debuted: Black Cat.
But the single's force doesn't feel diminished months after it was written, nor after the nationwide protests that erupted when Michael Brown and Eric Garner's uniformed killers did not face charges. It's still there, in the fiery intro that could have come out of a sermon — or a house-music handbook — the chorus ("No justice, no peace/F**k the police") and the track's title, a reference to Dr. Martin Luther King's "I've Been To The Mountaintop" speech.
"We were angry, we're still angry — as people of color, as white allies, as queer people, and we decided to put our rage to a four-on-the-floor beat. It's what we do best," the band writes. "We need to rejoice or this s**t will drive all of us crazy."
Warning: Explicit lyrics.
Coup Sauvage & The Snips play an EP release show with Gauzy and Hemlines Saturday, Feb. 21 at Black Cat.