A lively pop-rock quartet from Frederick, Maryland, Seaknuckle wants to make danceable music — but mostly for their own sake.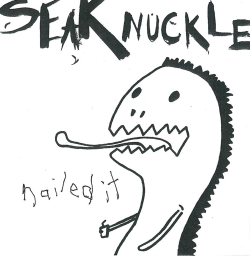 "We like things that make you dance, but we don't like trying to make you dance," says Jon Phelps, who plays guitar and sings. "We like making ourselves dance, I think, more than anything else."
"It Won't Last," a standout tune from the group's forthcoming digital EP, Nailed It, does just that. The song opens with a bouncy bass line, grooving along for four measures before a quippy guitar melody jumps in.
"That's one of the first songs where we really let a naked bass line interact with a naked guitar melody," says Phelps, 29. "That bass line really makes me dance, so I just groove to it and enjoy my band members doing it, and that just makes the anticipation of when I sing all the more fun."
That's not to say the song diverges from the rest of the EP. "We have strong rhythms, staccato rhythms playing against more streamlined melodic lines, and we like to play off those dynamics," Phelps says.
Much like the EP's quietest track, "Echelon Machine," "It Won't Last" builds up to an impressive finish. "At the end, we have the harmonies and then there are full-blast chords, and then we have staccato chords, and then at the end we just have quiet strums of the chords with the harmonies," Phelps says.
"It Won't Last," like most of Seaknuckle's output, focuses on celebration in the face of doom. "It's kind of a theme that runs through a lot of our songs, but we're kind of very not subtle about it in 'It Won't Last,' in particular. We do chant 'It won't last,' like, 20 times," Phelps says. "Definitely not beating around the bush."
Inspired by the frontman's habit of falling in and out of relationships, the song comes from a place where "the waves are always cresting," Phelps says. "I'm either coming up or going back down."
But Phelps doesn't take a negative view of his romantic peaks and valleys. "Whether you're coming [into] a relationship or coming out of one, or coming into a new chapter in your life, you realize the same feelings," he says. "You realize you have to celebrate the moment."
That celebratory tone permeates Nailed It, which Seaknuckle recorded over only two days. The band didn't have time to obsess over tiny imperfections that find their way into a track.
"There's imperfections in it, but I think most of them are pretty endearing," Phelps says. "So we just called the album Nailed It."
Seaknuckle plays tonight at Guido's Speakeasy and Sunday, Feb. 8, at University of Maryland radio station WMUC.