D.C. rock bands have a reputation for mixing music with activism — see the new documentary Positive Force: More Than A Witness for proof — and the last couple of months have brought new efforts to keep the tradition going. In November, D.C. bands played the latest in a series of benefits for Girls Rock! DC, and Jack On Fire's Jason Mogavero put together a compilation of homegrown music to support a D.C. church that helps kids in need.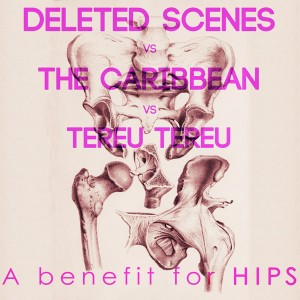 Now, D.C. label Bad Friend Records is giving back in its own way. Tuesday marks the release of the imprint's new remix collection, Deleted Scenes vs The Caribbean vs Tereu Tereu: A Benefit for HIPS. All proceeds will go to nonprofit organization HIPS, which provides services and advocacy for people affected by sex work and drug use.
Bad Friend Records' co-owner Ryan Little, a member of Tereu Tereu, says the mission of the compilation is simple. "For me, it's just caring about other humans," he writes in an email. "Sex workers and prisoners are two marginalized groups that won't score advocates any political points, so I think they're important to care about. I learned about that in church growing up — Jesus tended to hang out with prostitutes and criminals."
Little also has a history of supporting HIPS in particular. "I was part of a HIPS benefit years ago on Exotic Fever Records when I played in the band Pash," he writes. "Being part of that compilation, which was called This Is A Care Package, taught me a lot about the issues facing sex workers. When I brought the idea of working with HIPS to the bands … they all really felt it was an important issue."
The album features remixes of songs by local indie-rock acts Deleted Scenes, The Caribbean and Little's Tereu Tereu — all of them tweaked by the bands themselves.
Some tracks sound like a loose homage to the original recording, like Tereu's Tereu's version of Deleted Scenes' "You Get To Say Whatever You Want," which turns the guttural slow burn of the original into a four-on-the-floor stomper. Others, like Deleted Scenes' hypercaffeinated take on The Caribbean's "Jobsworth," use the source material as a springboard to something out of this world. "There were no rules!" Little writes. "That was the only way we knew to approach it."
Tereu Tereu and The Caribbean, along with D.C. guitar experimentalist Harness Flux, play a release show Saturday at Union Arts. The compilation will be available for purchase in advance of its Tuesday sale date, and the show's $8 admission will also go towards HIPS.
"Bands don't make much money, period. Most begin and end in obscurity," Little writes. "But if you put a little effort into it, playing music can be an inclusive way to bring people together to work on stuff that matters to the community you live in."
Tereu Tereu, The Caribbean and Harness Flux play a benefit for HIPS at Union Arts on Saturday, Dec. 13 at 8 p.m.