George Washington University already has a class about D.C. punk rock. But for the last year, the pricey university in Foggy Bottom has been working on another effort to educate the public about D.C. music history.
It's called the D.C. Vernacular Music Archive, and it's formally unveiled Thursday afternoon at the college's Gelman Library.
Music professor and prolific author Kip Lornell began putting together the archive last year with university librarian and ex-journalist Tina Plottel. "Hear in DC: Vernacular Music in the Nation's Capital" is their first effort to show off what they've assembled so far—and while it's still a tiny collection, it could eventually become the broadest of any D.C. music archive yet.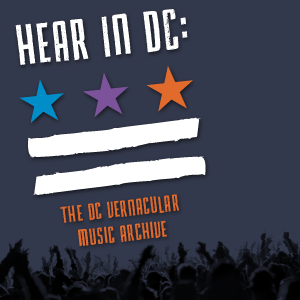 The Washington region currently boasts several other archives that specialize in local music culture. But four key genres in D.C. music history—punk rock, go-go, bluegrass and folk—all get equal billing in the small collection that Plottel and Lornell have organized.
"There's all kinds of stuff out there… it just seemed like there was a gulf," Lornell says. "The intent is that the Vernacular Music Archive will [fill] that gap, and give a more rounded view of vernacular music around D.C."
To build a foundation for the archive, Plottel contributed materials from her Kansas House Project, an oral history she conducted about the late punk-rock house in Arlington. Lornell and Charles Stephenson, who co-wrote The Beat: Go-Go's Fusion Of Funk and Hip-Hop, chipped in some of the go-go artifacts they picked up while writing the book. On the folk and bluegrass sides, Lornell says they have objects from The Seldom Scene's Tom Gray, the Washington Area Music Association, the university's own stash (the college once housed the 1960s-era Folk Music Club, a group Lornell describes as the basis of the Folklore Society of Greater Washington) and Lornell himself, who's written a few books about traditional music and picked up numerous artifacts over the years.
Thursday's kickoff runs at the somewhat inconvenient time of 2 p.m. to 5 p.m., but those who can swing it can expect panel discussions with Plottel and Lornell, Dischord Records co-founder Ian MacKaye, TMOTTGoGo's Kevin "Kato" Hammond, Folklore Society of Greater Washington co-founder Andy Wallace, Steve Lorenz from the Ralph Rinzler Folklife Archive and folk musician and author Stephen Wade, who is also scheduled to perform. Marc Eisenberg, founder of the D.C. Music Salon series, will moderate the afternoon's panels.
This promises to be just the first in a series of related symposia and events, and future editions will probably take deeper dives into specific chapters of D.C. music history, Lornell says.
The educator doesn't seem concerned about competing with the region's other music collections, like D.C. Public Library's punk archive, the University of Maryland's punk fanzine collection, the University of the District of Columbia's Felix E. Grant Jazz Archives and the various D.C. music items housed at the Library of Congress and Smithsonian. He says the university's collection aims to complement, not compete.
"There's such a range of vernacular music out there, I don't see any way the topic can be exhausted," the professor says.
He and Plottel have already thought about how to work with all of those institutions, too. Last month, they hosted a gathering of the archivists at Gelman, bringing together representatives from a range of local institutions, big and small (I was there listening in), and they took turns discussing their mutual challenges and potential points of collaboration. Lornell says the university seems enthusiastic about teaming up with those entities in some way—and treating the D.C. Vernacular Music Archive as a portal to other collections that specialize in things the college doesn't have access to.
Looking ahead, Lornell also hopes the archive will go even broader, preserving music that's normally ignored by local institutions and the press, like the output of Somalian and Salvadoran immigrants, as well as all kinds of sacred music, which he calls "criminally overlooked."
He says if someone doesn't archive these cultures, there's a good chance it will all wind up in history's dustbin.
"Things seem so commonplace now, but as we go through the future, these things that seem like everyday events for us will become lost to time unless somebody throws them into an archive somewhere," Lornell says. "Because they will just get tossed, or they'll get recycled in some way or thrown away—and that's exactly what we don't want to have happen."
"Hear In DC: Vernacular Music in the Nation's Capital" runs from 2 p.m. to 5 p.m. at George Washington University's Gelman Library, Room 702. Have something you'd like to donate to the archive? Email Lornell. Photo by Flickr user Geronimo De Francesco used under a Creative Commons license.