Raised in a religious household, rapper Chaz French has found his faith tested more than a few times in his 23 years.
The D.C.-based artist dropped out of high school in his senior year. He's dealt with homelessness and felt the absence of an incarcerated father, and not long ago, he became a parent himself. But these aren't secrets. Chaz openly shares his story with the world—in devastatingly personal detail—on his new debut mixtape, Happy Belated.
Happy Belated is the result of years of perseverance. Chaz grew up between Northeast D.C. and Temple Hills, Maryland, and spent a little time in Chicago before winding up in a suburb of Dallas, Texas, during his sophomore year of high school. He spent the ensuing five years in the Lone Star state, living—during his final year there—in cars and empty houses before moving back to the D.C. region.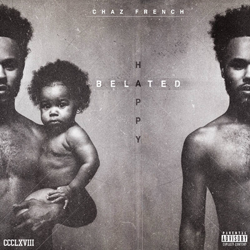 Through a few mutual associates, 368 Music Group co-founder Andre "Dre the Mayor" Hopson heard Chaz's music and got in touch with him. By March 2012, Chaz had a record deal with the label that's home to regional MCs Phil Adé, Phil Da Phuture and R&B vocalist Raheem DeVaughn, the label's other co-founder. More than two years later, Happy Belated arrived.
"He had so much potential," Dre says of Chaz. "He had the charisma and talent to be bigger than anything we've seen from here." But readying Chaz's debut took some time.
"I'm a firm believer that you don't put anything out until it's right," Dre says. "We don't live in L.A. or Atlanta or New York, so some of the resources you need aren't readily available. I needed the right videos. I needed the right PR person. I needed the right everything. So until I felt like I'd assembled Voltron, I was going to wait. It just had to be right because you don't want to be a tree in the woods."
Recently, I sat down with Chaz at House Studio in Hyattsville, Maryland, where Chaz seemed easygoing and animated, joking with his brother and manager as he walked through the door. As it turns out, he's just as forthcoming as his music suggests.
On his religious upbringing
I keep God first. That's instilled in me. I pray a lot. Dre thinks I talk to myself all the time—sometimes I'm just talking to God out loud. And I try to keep a relationship with Him because that's just what I was taught. But at the same time, you gotta live as well. When I first started rapping… I did gospel rap. My mom made me do gospel rap. Then it was like "C'mon now. Am I going to be the Lil Wayne of gospel rap? Can I crowd-surf at a gospel show?"
On the honesty and emotion in his music
I'm going to rap about it all. I mean, why not? If it's the first thing that came to my head, then it's supposed to be heard. There's somebody that can relate to it. My phone has been off the hook [since the tape dropped].
I'm not angry. It's just when I'm in the studio and that's how it comes out. Some of my raps are actually freestyles, and it's just in the moment. Aggression is a form of passion. I just want to be perceived as someone who told the truth through what he loved… I don't have to change the world. I don't have to be the president. But I do want to have an effect on some people who can relate to what I'm going through.
On music saving him
I know a lot of people say that, but if you listen to the tape and then look at where we are now, it's like OK, that was the outlet. And it's crazy because the [stuff] that was on the tape, I didn't write that during those times.
This song contains explicit lyrics.
I learned from it. I didn't let [my struggle] break me. We have moments. It wasn't just like "Aw, I'm struggling, but it's going to be alright." Nah, at points it was, "[Forget] this rap [stuff]. I don't really give a [damn] about this." But that was also just the fear of not knowing where I'm going to end up. It definitely made us. It made this project. It made us this person that we are, and now we look at things different. And when I say "us" I'm talking about everyone who's struggling and made it out and maybe even still going through… I really didn't even think I would be sitting right here talking. I thought I would still be out there [in the streets]. Or really, I thought I would be dead. We were doing some crazy things. We were taking some risks.
On rap's glamorization of hardship and "struggle raps"
Somebody texted me and said, "You make this struggle rap sound so good." I was like "It's not good. What are you talking about?" I'm saying it so people won't take that route. Of course everyone's struggle is different, and I can't speak on everyone else's. I'm just trying to go hard for people who are struggling. I'm trying to give them that hope and that kick—whatever it is you want to do, just because you're struggling, it doesn't mean that you're never going to come out of that situation.
On his daughter
It's changed everything—just the way I think and go about things. I may mess up and back-track, but [I remind myself] "Akai, Akai, Akai…" My music before her was still honest, but I was kind of beating around the bush. It was more upbeat, uptempo. It was more turn up… And then Dre was like "Bro, you need to talk about some [stuff]."
I feel like more should dads should turn up for their children. To have a child is a scary thing. And right now she's a sponge, so she's taking in everything right now. So it's good that she sees me as much as she does because, you know, most of us didn't see our folks.
On his relationship with his father
I talked to my father two days before the tape came out, so we're getting there… I felt the need to try to make some contact. He knows how I feel, but it was never a "[Forget] my dad, I'll never talk to him again." I was just letting him know how I felt back in the day when I couldn't let him know. It was certain times [I couldn't even see him]. It was just one of those things. It's my first tape, let's let them know who Chaz is and that's part of it.
This song contains explicit lyrics.
On Basquiat as an inspiration and "The Vent"
I don't want to sound like [everyone else], but I went like a year and just studied Basquiat because I felt like I related to him. He was homeless at one point. He was careless with money. He was just a rebel but he had a cause. And his paintings were so honest. You may not have understood them, but the thing about him was that he said "I can actually draw…But I'm just going to be honest about how I feel, and if it doesn't make sense to you, it doesn't matter because I know what I'm doing."… Like I said in ["The Vent"], "They'll understand me when I'm gone/I think I'm Basquiat." I wasn't saying I think I'm Basquiat in the sense of I'm Jean-Michel. I was referring back to his street name, SAMO, and I was saying, after all of this… I'm still going to be the same ol' person.