Two weeks ago, the catalyst behind one of D.C.'s most arresting new hardcore bands boarded a plane and flew 4,739 miles back to São Paulo.
Brazilian artist and musician Xavero had spent the last six months in D.C.'s Brookland neighborhood taking part in an informal punk-rock exchange program. While the mononymous artist lived here, he spent his time learning English, befriending some of the scene's elder statesman and for the first time in his life, fronting a D.C. punk band.
That band was Sem Hastro, a temporary group that would nevertheless make a mark on the city's vibrant, growing hardcore scene. Technically, Sem Hastro disbanded when Xavero went back to Brazil. But it left behind a demo recording that rises from a thick, primordial punk-rock sludge.
In a local hardcore scene that tends to follow in its forebears' footsteps, Sem Hastro stands out. Over the demo's five songs, punk bleeds into blastbeat hardcore. The tempo slows. Guitar solos abound. Its spirit resides in a time and place other than 2014 D.C.—maybe the West Coast, sometime in the 1980s, alongside The Circle Jerks and Black Flag.
The songs are also in Portuguese.
"It's funny," says Xavero, sitting under a streetlight outside of The Dougout on one of his last nights in D.C. "A lot of people started liking the band because I was singing in Portuguese."
Sem Hastro's story is really the story of Xavero, a 24-year-old punk rocker who began swapping emails with local hardcore band Coke Bust from his home in São Paulo more than two years ago. A bassist in his own straight-edge band, Disease, he had contacted Coke Bust vocalist Nick Candela to try to persuade the group to play his city. Later, when Xavero and a friend visited Berlin for an art exhibition—Xavero was invited to paint—they stayed in Europe for the summer and eventually caught a Coke Bust show in Prague. The musician and Candela became fast friends. When Coke Bust finally made it to Brazil in January, they crashed with Xavero.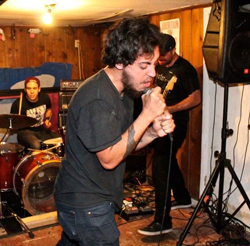 "In Sao Paulo, we were just hanging out, having a good time after the tour ended," says Candela, who also goes by Nick Tape. Afterward, Coke Bust invited Xavero and his friends to visit D.C. during the festival Candela and bandmate Chris Moore booked: Damaged City. "It was an insane opportunity," Xavero says. "I'd never been to America. I really wanted to go."
In April he came. He had a six-month visa, but just a few English words to work with. When he flew into New York and turned up at Union Station a few days before Damaged City, he called Candela but struggled to say where he was or what he needed. Candela managed to get the message and pick him up. When festival time came, Xavero helped out onsite, selling hot dogs to punk kids.
Even with the language barrier, Xavero made friends. He settled in. As the day of his return flight neared, he realized he wasn't ready to leave. He asked Candela—who he had taken to calling "Nicktape," like it was one word—if he could stay on his couch in Brookland.
So Xavero stayed, even while Coke Bust went on tour. By the time the band got back from their West Coast jaunt, Candela had come up with an idea: Let's start a punk band.
Back in Brazil, Xavero plays in Disease and tinkers with a few smaller projects. But in those bands, he plays guitar or bass. He called his new band Sem Hastro—an intentionally abstract band name that has no English translation—and decided he would sing. In Portuguese.
"It wouldn't make sense if I were singing in English," Xavero says. "It's not my language. It's hard to write in English. We listen to a lot of Crudos [the legendary Chicago punk band that sang in Spanish]. We knew it would be cool."
First Sem Hastro wanted to play straight-ahead punk, Xavero says, the songs slower-paced and melodic behind his ghostly, guttural screams. But with the band's lineup—which included Candela, scene mainstay and Sick Fix member Pat Vogel and Coke Bust's James Willett—a distinct D.C. hardcore influence crept in.
"It's the most punk band either one of us has ever been in. But it's still hardcore." —Nick Candela
"It's the most punk band either one of us has ever been in," Candela says, referring to himself and Xavero. "But it's still hardcore."
The next steps felt easy, Xavero says. They wrote a few songs, practiced four or five times and played their first show at the end of July. The band was a quick hit, says the singer—possibly because they sounded so different.
Six months can fly by. The band played its last show—for now—at the Rocketship Sept. 15. The following week, Xavero boarded a plane.
Under the streetlight outside of the Dougout, Xavero says he doesn't want to leave. He has friends here now. His English sparkles. He wants to keep pushing with Sem Hastro and see where it goes. But he can't, he reasons. Overstaying a visa is a mess he doesn't want to make.
But he'll be back, Xavero pledges—as soon as March of 2015, when Disease plans to tour through here. Candela says next time, they're going to work on finding a legal way for him to stay permanently. Until that day comes, the band will be waiting.
Photos, top to bottom: Sem Hastro at the Slam Pad by Michael Andrade; Sem Hastro at the Rocketship by Ron Akins.