When Bandwidth swapped emails with D.C. indie rockers Spirit Plots in advance of the band's show at Galaxy Hut tonight, the trio didn't exactly get right to the point: its members went on tangents about lost cats and Michael Landon. But you couldn't call the group's debut EP roundabout. Released in August, Spectral Pitches boasts all of the slacker melodies of a Pavement album crammed into eight quick minutes.
How does Spirit Plots do it? The band has a simple process, writes guitarist Javier Diaz. "Our formula is Hook –> Chorus –> Bridge (repeat x2) –> End. Keep it under two minutes. Gold."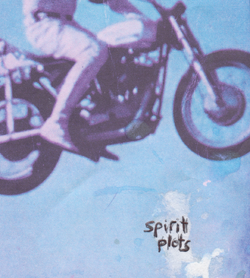 The group has a similarly straightforward story it tells with personality. The group first formed as a nameless duo between singer/bassist "Irish Dave" Johnston and drummer Sammy Ponzar. The pair worked together in a number of acts—including local favorites America Hearts—and began to experiment with making music on their own, following what sounds like an unceremonious ouster from another group.
"Sammy and I started playing our first batch of songs after we got kicked out of the band Teenage Aviation by our friend Julia in a King Herod-style killing of the infants," Johnston writes.
Johnston continued honing his skills as a songwriter, then played his home recordings for Ponzar and Club Scout member Diaz. They pronounced them indie-rock gems. ("Dave writes very short songs," Ponzar writes. "Maybe it will keep the post-MTV millennials interested.") Diaz took up guitar. Then it came time to decide on a moniker. "It's a pretty bad name," Johnston says of the final pick. "It was either that, or 'Hot Dog and the Buttcrackers.'"
EP closer "Set Out" demonstrates Spirit Plots' simple formula at full strength: On the track—a near-epic at more than two minutes long—the band establishes a loose vamp and spends the rest of the song resisting it, while Johnston spouts a series of nonsensical rhymes from deep in the mix. The tune's backstory is just as confounding.
"On the DVD commentary of the movie The Princess Bride, Wallace Shawn tells a story of how Andre the Giant told him on the set of the film that Samuel Beckett used to drive him to school in an ambulance because he wouldn't fit on the school bus," Johnston writes. "This song is about their adventures together."
Like the EP's cover art—a picture of Evel Knievel catching air—the EP comes across as a blink-and-you-missed-it moment, designed to be experienced first and figured out later. No breaks divide the songs. "It keeps momentum going," Ponzar writes. Listeners can rest when it's over.
Spirit Plots play Galaxy Hut tonight at 9 p.m. with Warm Sun.