When drafting the lyrics for one of his band's latest songs, Jake Reid took a cue from The Beach Boys school of songwriting.
Reid, half of Virginia band Screen Vinyl Image, felt particularly inspired by "God Only Knows," whose opening lyric—"I may not always love you"—is a famously counterintuitive opener for a romantic song. Reid wrote something similar for his new tune "I'm Not."
"It's a love song," says Reid, who makes music with his wife, Kim. But it's also a little surprising. "The words 'I'm Not' usually sound kind of confrontational or something, and the song really isn't supposed to be confrontational at all," he says.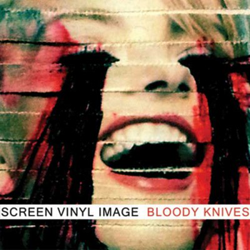 In fact, the song's lyrics skew rather sweet: Take "I'm not good at wasting time when I want you to be mine," or "I just want to catch your gaze and get lost among your waves." Romantic messages all, they're undercut with a swirling haze of big instruments and vocal delay, obscuring any hint of straightforward romance.
Reid says the band was listening to a lot of "jangly pop guitar-type stuff" while brainstorming this song, and that influence shines through. Much of Screen Vinyl Image's other material sounds a bit darker, louder and colder, but listening to bands like Wild Nothing and The Rosebuds influenced SVI to lighten up a touch. The band swapped out a synthesizer for woodwinds, namely clarinet and flute. A peppy drum beat helps keep the mood light, but there's still some edge here.
The song—which is part of a cassette-only split with Austin band Bloody Knives, out now on D.C. label Accidental Guest—represents a subtly different direction for Screen Vinyl Image. But building "I'm Not" felt easier than some of the duo's previous tracks, Reid says. "I came up with the idea of the lyrics first, which is odd. Usually we write a song first, and then have to struggle to come up with the lyrics," he says. "But this one I had the lyrics first and then started to craft the melody around it and the rest of the song."
Fans of wall-of-sound rock might appreciate "I'm Not" for its atmosphere—it seems perfect for ushering in chilly weather or courting a potential sweetheart—but Reid likes it for a different reason. "I always cherish these moments when a song comes together rather quickly," he says, "because it's very rare."