Coming up in the era of slacker rock, Jenny Toomey may have seemed like an outlier: The native of Chevy Chase, Maryland, got more done in the pre-smartphone era than most of us do now with our iPhones constantly three inches from our faces.
Alongside Kristin Thomson, Toomey co-founded the prolific Arlington label Simple Machines in 1990. She played in Tsunami, Liquorice, Geek, So Low, Choke, Grenadine, My New Boyfriend, Slack and her own Jenny Toomey band. She toured all over the place and, at one point, worked at Kinko's. After Simple Machines shut down, Toomey co-founded the Future of Music Coalition while on sabbatical from a copywriting job at the Washington Post. Now she splits her time between New York and D.C., doing important-sounding work at the Ford Foundation—and for the last decade or more, it seemed like she had put music on the far-back burner. But now, Toomey is back at it again, with some credit due to her artistic friends.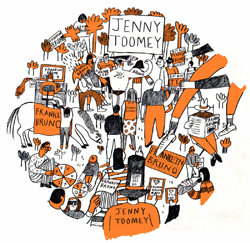 For the first time since 2002's Tempting, Toomey's voice appears on a new record—a 7-inch single by New York outfit Human Hearts, expected out in November via English label Where It's At Is Where You Are. It's another Toomey collaboration with songwriter Franklin Bruno, her longtime pal and off/on creative partner, and violinist and vocalist Jean Cook, who has played with Pulp, The Mekons' Jon Langford and D.C.'s Beauty Pill, among others.
The record's jumpy B-side, "Distracted" (stream it below), is a Motown-tinged pop song that Bruno wrote with Toomey's hectic lifestyle in mind. "She's very connected, and she was one of the first people that I knew well who frequently had their Blackberry or what have you," Bruno says. ("It wasn't a Blackberry, it was a Treo," Toomey points out.) "Usually when we're getting together to do a session, her husband will call at least once, and there's a lot of phones and screens and tablets in the room."
At the top of "Distracted," Toomey sings, "Got 100 windows open/But only one lets in the light." It's the kind of clever lyric that attracted Toomey to Bruno's songs in the 1990s, around the time she became acquainted with his old band, Nothing Painted Blue, through the DIY circuit. Toomey dug Bruno's work so much, Simple Machines later released a chunk of it, and Toomey went on to record Tempting, an album of Bruno songs. They reconnected in the same city six years ago, when Bruno—a university lecturer—relocated from California to New York. Eventually, they began meeting up with Cook in Toomey's Manhattan apartment, sipping tequila drinks and singing songs they'd played together in the past. Gradually, those casual get-togethers began to produce new songs. "Distracted" was one of them.
"Stylistically, I always wanted to do something that sounds at least a little bit like a certain kind of Motown track," Bruno says. Despite the lyrics' thoroughly modern subject, the final product—recorded with bassist Brandon Kalber and drummer David Brown—came out sounding like a throwback to The Supremes, The Smiths and Orange Juice all at once. It seems like a natural fit for the twee-leaning English label that had contacted Bruno in search of Human Hearts songs for a 7-inch series.
Bruno calls himself the chief songwriter and musical director of Human Hearts, but he says Toomey helped him shape "Distracted" and its A-side, "Loyal Opposition," much like she did for Tempting. "She definitely has agency," he says. "It's not like a Svengali thing."
"It's just a cute little song," Toomey says of "Distracted." But the 7-inch could pave the way for more Toomey music in the future. "I am always open to any opportunities," she says. "I think I'll always be singing and playing."