Ethan Spalding doesn't want to disclose his age on the record. "Hip-hop is a young man's game," says the Takoma Park rapper, who could pass for a 20-something if it weren't for the wisps of gray streaking his hairline.
But never mind his subtle signs of age: Spalding doesn't seem like the kind of dude who would let getting older interfere with a hip-hop career two decades in the making.
In fact, the hard-partying lyricist is in the midst of a rebirth, having recently taken on a new name: his legal one. He ditched Violet Rocker, a moniker he derived from his former band, Violet Says 5. Now he's just him: Ethan Spalding, the self-proclaimed "originator of traprock."
"Traprock" refers to an amalgam of street rap and rock, but there's a lot more trap than rock on Spalding's most recent release, I Am Ethan Spalding. That mixtape/album consists mostly of sharp-edged and mainstream-targeted hip-hop, with the only perceptible rock 'n' roll element found in the rapper's rooster-like posturing.
Spalding says he intentionally went in a harder direction than he did on Violet Rocker's 2013 tape Champagne, Weed, and Bubble Gum. But it's hard to find a link between Spalding the artist—who raps about bagging hoes and julienning his haters—and Spalding the nice guy, who grins in his Instagram photos and works at a D.C. gym to pay his bills.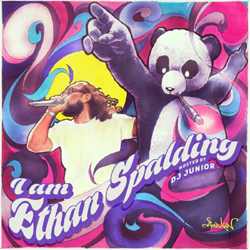 So it's no surprise that the strongest cut on I Am Ethan Spalding sounds like the rapper at his most natural. It's "Happy Feelings," a track that DaMonsters producer Lionell Davis put together with generous use of the classic tune by Maze and Frankie Beverly. Surrounded by the trap material on the rest of I Am Ethan Spalding, the cheery "Happy Feelings" stands out like a flamingo yard ornament on a battlefield.
But while "Happy Feelings" outsmiles the other songs on the tape, it was also one of the toughest to write, mostly because of the way Davis sampled Maze and Beverly's original lyric "from deep in my soul." He isolated the "froms," meaning Spalding had to write a series of verses that ended with "from." When he raps "Yeah I got a suit from the thrift store/But Neiman Marcus is where I got the tie," the sample finishes his sentence: "…from." The result is a song that explores the elements of Spalding's style: his income, parentage, hometown and of course, his weed.
"I knew that the more challenging it was… [the] bigger impact it was gonna have," Spalding says of the track. "Everyone who's gotten the album so far has called me about that song."
The tune's vibe might hit a seasonal sweet spot, too. "It's a cookout record," he says, something you'd put on to "chill out and be with family and friends and have some drinks and some big, barbecue juicy ribs."
"Happy Feelings" now has a suitably sunny music video, too. Unlike the writing process, it wasn't tough for Spalding to devise a video concept. "I could go around and capture happy feelings. That's pretty easy!" Spalding says he thought. "I can go around and get little kids like [giggle sounds]. And what's better to do that than with the panda?"
Ah, yes, the panda. Anyone who's come across Spalding's music has probably seen the furry guy, his mascot since his days with Violet Says 5. It shows up in his videos, artwork and live shows, partly to represent D.C. pride (you know, Mei Xiang and Tian Tian) but also to bear a message of racial harmony—black and white together, says Spalding.
When he first floated the panda idea to his VS5 bandmates, "the whole band looked at me like I was cockeyed," he says. But his friend Carlos volunteered to wear a panda suit if Spalding bought one. Swipe went the credit card. "It came in a week from China," says the rapper. Now he has himself a black-and-white shadow—one who hypes him onstage, dances in his videos and has been known to smoke a joint.
The mascot doesn't do much for Spalding's trap appeal, but then again, it serves his other goal of eternal youth.
"Kids from 8 to 88 years old, you can't not like a panda," Spalding says. "There are some other animals that people might have some quarrels about. But I'd say nine out of 10 people rock with the panda."