This song contains explicit lyrics.
As a kid growing up in Northeast D.C., Antoine Williams played AAU basketball. "I thought I was the man," says Williams. "I had crazy handles. But in basketball, you find out there's someone like you on every block."
As his basketball aspirations faded, Williams began to focus more on developing his rap career, since he had already grown a decent following under the name Fatz da Big Fella. "I saw that people listened to a lot of the things I said," he says, "so I thought, 'Why not put it on a track?' I knew I had a gift."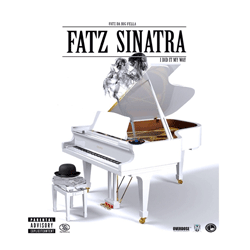 These and other autobiographical details find their way into "Grew Up," the opener from Fatz da Big Fella's new Fatz Sinatra mixtape. But the track—which also features D.C. singer Frank Sirius—doesn't just reminisce on Fatz's youthful hoop dreams. He takes it as an opportunity to get real about his upbringing. His first verse starts: "My childhood was [messed] up, 20 people, one house/Four sleeping in one room, two folks on the couch."
Fatz says he wanted the song—and the tape—to tell an extremely personal story with grit and honesty. According to the MC, it's a first. "I never really exposed my life," he says. "It was time to grow up and talk about the struggle. People see the glitz, glamor and the way I do things, but I came from nothing."
Fatz didn't always think rap was his calling card. But after he saw Wale, Tabi Bonney and Raheem DeVaughn make national waves, it began to sink in that D.C. artists could make their mark outside of the region. Wale, who appeared on Fatz' 2012 Heart of a King mixtape, reemerges on the Sinatra track "Talk About It" with New York rapper French Montana. The new tape also features rising D.C. rapper Shy Glizzy (on "Miami Vice"), local crooner and rapper Visto ("On Who") and perpetual superstar-in-waiting Phil Adé ("Celebration"), also from the D.C. area.
"I wanted those soulful, heartfelt songs," Fatz says about Sinatra. "It's easy to talk about the club life and the things you see on TV, because people don't wanna tap into when they were at their worst. [But] let me talk to the person that's going through something. There's more people struggling than people winning."