Rapper DDm can remember when he was young enough to want to be a puppet of the music industry.
"I'm not gonna lie … I wanted to have [a] major label tell me what to do, and I just do it," says the Baltimore MC. But these days, the 29-year-old named Emmanuel Moss is the definition of an independent artist, doing all of his own dirty work—sometimes literally. Case in point: At a private show he recently hosted at his home in Baltimore's Remington neighborhood, DDm built a set, arranged refreshments for his guests, and right before doors opened, cleaned the bathrooms.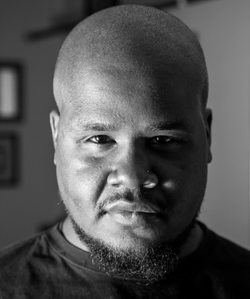 Scrubbing toilets wasn't exactly on DDm's mind a decade ago, when his dreams of a breezy ascent to rap stardom were fueled by his early success on Baltimore's competitive battle-rap scene. He was a champ or a finalist several times in his teens and early 20s, winning over crowds and shutting down other MCs with his charismatic delivery and quick wit. But it was at the tail end of his battling career, when he still performed under the name Midas, that Moss' life and career arrived at a major and unexpected turning point.
Rumors had been circulating for months about Moss' sexuality. One night in March 2010, they broke the surface during a battle at Baltimore nightspot Red Maple, when his opponent called him a gay slur almost right out of the gate. Moss quickly wrested control from his challenger with a slew of offensive put-downs. But when word got out about the "gay battle rapper"—aided by World Star Hip Hop, which published footage of the event under a sensational headline—Baltimore's battle-rap scene began to turn its back on one of its greatest champions.
Moss, who is gay, didn't come out publicly till the following year. But when he did, other doors opened. Already funny and unfiltered on social media, he became more candid with his fans. He appeared on the cover of Baltimore Gay Life magazine that year. He performed at the 2012 edition of Baltimore Pride, paying tribute to the cross-dressing hometown club icon Miss Tony. He became known as Baltimore's highest-profile openly gay rapper.
"I went through this period where everything I did, no matter how good it was, it was always 'gay rapper yada yada.'" —DDm
As Moss branches out beyond battle rapping and pursues the next phase of his career, however, he's wary of letting his sexuality pigeonhole his music. "I went through this period where everything I did, no matter how good it was, it was always 'gay rapper yada yada,'" he says.
After a few years, that label has begun to fade away, coinciding with the release of one of his most successful singles yet, "Come Thru." The tune is both club-friendly and lyrically sharp, displaying the rapper's personality at his most uninhibited. Now DDm is hard at work earning another title: superstar.
* * *
When I meet up with DDm for breakfast one morning near the downtown University of Maryland campus in Baltimore, his busy summer is only getting busier.
The eye-popping video for "Come Thru" has earned thousands of views in its first month online. At one point we pause our conversation so he can take a call from one of the multiple management firms making him offers, and that night he's headed to Brooklyn to perform at hot spot The Woods.
Moss is busy capitalizing on "Come Thru," but it's just one stepping stone in his career plan, which doesn't involve being known for just one catchy song or deliriously entertaining video. "It's better to be a hit personality than to have a hit record," he says. "If you have a hit record but people aren't invested in you as an artist, the minute that record is over, you're done."
This video contains explicit lyrics.
Accordingly, DDm is already lining up his next video, for a harder track called "Black Out." That release will serve as an entrée to his next project, Life On Sale. Moss says Life On Sale will be an EP, although if it's anything like his last EP, 2012's Winter and the Tinman's Heart, it will be a cohesive and carefully sequenced mini-album.
"It's kind of addressing America's capitalism and obsession with wealth," he says of the project's themes. "You can have anything you want, if you pay for it."
Moss has taken a few turns on his way here, but he still has the same sparkle I noticed the first time I saw him perform. That was nearly nine years ago, when he was a charismatic kid making a name for himself on the battle-rap circuit. In a scene dominated by aggressive personalities like Verb and Skarr Akbar, Midas stood out as an MC who could smile and dance to the beat while he was improvising killer punchlines and destroying his opponents like he would go on to do that 2010 night at Red Maple.
Moss fiddled with his sound and public persona over the years. His first local label, Team Green, released a mixtape called Pay-Per-View in 2006 that featured boxing gloves on the cover—a reference to his reputation as a battle-rap champ. A couple of years later, the artist rebooted his career as Dappa!!! Dan Midas with Mania Music Group, a faction of Baltimore rappers and producers who allowed the lyricist to more deeply explore his individuality and eccentricity, and his 2008 EP Live From the Arcade showed how much progress he'd made toward a stronger artistic vision.
Even as he's become known as more than a battle rapper, Moss still credits the battling scene with cultivating his skills in front of a crowd. "These people taught me a lot about projection, grabbing the audience," he says.
With that magnetism on stage, Moss' DDm project has bridged Baltimore scenes normally divided by class, race and sound. He's held his own on a track with the city's biggest mainstream rap prospect, King Los, and gotten a remix from Baltimore club producer Mighty Mark. But he's also opened for freaky electronic artist Dan Deacon and collaborated with Wye Oak's Jenn Wasner on her side project Dungeonesse. With versatility like his, DDm's options on a national level seem wide open.
"I think that now, especially the way the whole gay-rights movement is going, I'd rather be an advocate through just living." —DDm
For DDm, keeping his options open is key. One of the reasons Life On Sale will arrive more than two years after his last project is that he recorded and shelved an earlier one. The rapper announced but never released The Omar Tape, named for the iconic character from HBO's Baltimore drama The Wire. DDm saw parallels between himself and the character: Omar was gay, yet still feared and respected in the streets of Baltimore.
Then Moss had second thoughts. "I felt like A, you're playing a stereotype into a persona and B, is this really you?" he says. "It was corny to me."
Moss seems more interested in making quality music than breaking barriers as a gay man in hip-hop. "I think that now, especially the way the whole gay-rights movement is going," he says, "I'd rather be an advocate through just living."
He tossed out The Omar Tape and moved on. "I feel like I always find a way to reset myself," he says.
Moss hasn't hit the reset button on battling, though—at least not yet. The televised rap freestyle cyphers at the BET Hip Hop Awards in recent years have revived interest in the form, and Moss has been invited to his share of them.
Even as he explores new creative territory, the seasoned Baltimore battler still takes a certain delight in punishing less-experienced rappers. "There's the one kid who's totally overdressed," he says, describing his typical challengers. "There's the one kid who's super arrogant but the skillset isn't there, and there's the dude who's super popular but they're not really that good. And then there's me."
In the world of so-called hipster rap, where fashion and connections can trump rhyming skills, DDm has plenty from both columns—and he relishes a challenge from anyone who thinks otherwise.
"Now you're mad because the queen done came and stole your thunder?" DDm says, mocking his opponents in the ring. "You wasn't about this life!"