When Silver Spring band Two Inch Astronaut released its searing, herky-jerky LP Bad Brother in 2013, it attracted predictable, but fair, comparisons to D.C's best-known herky-jerky outfit: Dismemberment Plan. But the brainy band has its own supply of ideas—such a rich one, it seems, that Two Inch Astronaut vocalist and guitarist Sam Rosenberg had to start another project just to get them all out.
That project is Mattress Financial, the Rosenberg solo act that just released a split EP with Fond Han this week on Exploding In Sound Records.
Mattress Financial's four songs on the Private Split EP (including a digital bonus track) are largely acoustic—a big change from Two Inch Astronaut's cranked-up, sock-full-of-marbles freakouts. Rosenberg, 22, says sidelining the electric guitar helped him overcome some personal biases.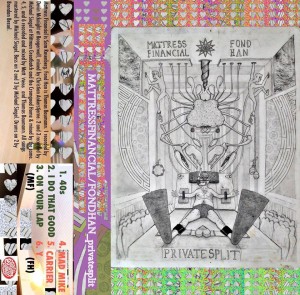 "I've been making little acoustic songs as long as I've been playing in bands, but I've always been self-conscious about being perceived as one of the innumerable pricks with acoustic guitars playing precious whiny little songs," Rosenberg writes in an email. "Not to say that I'm not one of those, but I think doing the split was a good excuse to come out of my comfort zone and be a little less self-conscious and judgey about stuff like that."
The project's funny name seems in line with the sense of humor scattered all over Bad Brother—see that release's second track, "Spank Jail"—but it doesn't come from an expected source, or at least one I detected. "The name comes from a Fat Joe song. I can't even remember which," Rosenberg says. (It was "If It Ain't About Money.") Rosenberg says he heard the song one morning before work, and thought the lyric "Wrist on froze/Thanks to the stove/Mattress financial/Banks never closed" was "so funny and amazing that I couldn't stop laughing the entire shift."
An especially strong track on the split is "I Do That Good," which includes some drum help from Brendan Bessel. The tune is about "that feeling of being a kid and wanting to find your 'talent' or whatever is going to make you distinct," Rosenberg says. "Kids always seem to be identified that way: Soccer Kid, Coat Kid, Kid Who Is Good at Origami, etc."
"Put another way," he says, "it's about wanting to burn down your school."
The dawn of Mattress Financial doesn't signal the dusk of Two Inch Astronaut—on the contrary, Rosenberg says. His main band is recording a new full-length starting this weekend, and come June, it's hitting the road with Brooklyn band Laughing Fingers.
It sounds like Rosenberg won't have many distractions from his music in the meantime. "I'm recently unemployed and have been doing freelance yard work," he says, "if you ever need your lawn mowed."