If you followed NPR's Morning Edition this week, you might have heard Pam Fessler's piece on Ruby Corado, the 45-year-old transgender activist who founded D.C. nonprofit Casa Ruby in 2012. Corado's group provides a safe space for transgender people in the D.C. region, many of whom face violence, discrimination and excommunication from their families and communities. Recently Corado opened two more houses with support from the District, Fessler reports.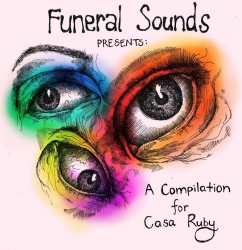 Now add Houston, Texas, record label and website Funeral Sounds to Casa Ruby's list of supporters: The outlet is getting ready to release a benefit compilation for the organization, featuring tunes from D.C.-area acts Two Inch Astronaut, Ricky Eat Acid, Tomato Dodgers, Holy Crust, Teen Suicide and Night Kitchen, in addition to songs from nonlocal bands.
One highlight from the bunch: Two Inch Astronaut's chaotic cover of Taylor Swift's "Fifteen." (Stream it below.)
Funeral Sounds has been slowly unveiling some of the comp's songs over the last couple of weeks, but the release formally drops June 6. All proceeds go toward Casa Ruby.