The second annual Funk Parade is getting its wish: D.C. will shut down U Street NW for the parade on May 2. D.C. Mayor Muriel Bowser made the announcement this morning.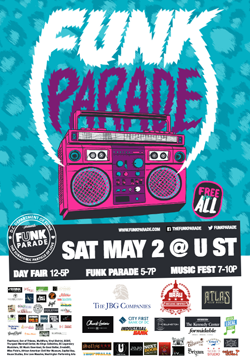 The Funk Parade will take place on the historic stretch between Howard Theatre (near 7th and T streets NW) and Lincoln Theatre, according to a press release.
Organizers of the parade said in January that they'd asked the city to shut down U Street for the event, which reportedly attracted more than 25,000 attendees last year and overwhelmed its parade route. But as weeks went by, organizers still hadn't heard from city officials about their request to formally close the corridor for the parade's 2015 edition. Supporters started an online petition asking the government to honor their request.
Bowser spokesman Michael Czin told Bandwidth in January that Funk Parade was on the mayor's radar, but it needed to work its way through the "normal process" of approving street closures. "We are a pro-funk administration," Czin said.
D.C. Council members Brianne K. Nadeau and David Grosso today expressed support for Funk Parade taking over U Street.
"I believe that the U Street Funk Parade is an example of how the city can support the arts as an economic driver and celebrate the unique history and culture of the U Street Corridor," Grosso said in a press release.
Nadeau, whose district includes the U Street corridor, was less formal about it.
"As a strong supporter of the U Street Funk Parade, I'm pleased that this year's parade route reflects the growth of the festival," Nadeau said in the release. "Bring on the funk!"
Funk Parade photo by Flickr user Pabak Sakar used under a Creative Commons license.