As the longtime host of a nationally syndicated talk show heard by more than 2 million people each week, WAMU's Diane Rehm has got some dedicated fans. They send her mail. They write fan fiction about her. They turn up on her Facebook page to post things like, "God bless you, Diane," "You are a true heroine" and "The only thing better than Julie Andrews is you, Diane."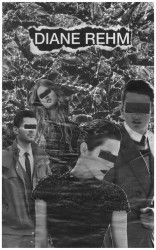 But it took four 20-somethings from Michigan to concoct one of the most unusual Diane Rehm tributes yet: They named their punk band after her.
The band that would become Diane Rehm began to form in 2012, started by the former members of a hardcore punk group called DSS, or Dips**t System. John Cates, 26, and Dylan Putnam-Smith, 27, started the new band while living together in Lansing. By 2013, they'd recruited former DSS member Miles Murphy, 23, along with vocalist Claire Korejsza.
Korejsza, 26, is an educator and social worker who was teaching preschool at the time. She listened to The Diane Rehm Show every day before work. Sometimes, she took what she heard in the media and wrote about it in her journal.
"I listen to a lot of radio and news, and I realized that the world's pretty messed up, and there were certain things that would stick with me all day," Korejsza says in a conference call. She scribbled those things on paper.
When Korejsza joined the band, she turned her journal entries into song lyrics — and the band turned into an unlikely homage to the voice she heard every morning.
"We were sitting around talking about band names, and it was always something that I kind of had in the back of my head — that it would be funny to have a hardcore punk band called Diane Rehm," Murphy says.
Other heavy bands had named themselves after well-known people. Charles Bronson. Bruce Campbell. This crew decided to do something similar, but with a feminist slant.
"So many people at shows would ask if I was Diane," says Diane Rehm vocalist Claire Korejsza. "I felt like we were constantly plugging her show to people who didn't recognize it."
"I don't think it was really conscious at the time, but the more I thought about it, I thought it was just kind of funny — that by adopting the name Diane Rehm, we kind of flipped that paradigm [of] having these ultra-macho, aggressive, over-the-top men's names in a band," Putnam-Smith says. "Adopting the name of this prominent strong female radio personality is kind of a nod to, 'Hey, there's a lot more to what actual strength is.'"
Plus, the name seemed "relevant to what Claire's lyrics were about," Murphy says.
Korejsza wrote songs from her own experiences and dove into issues like the sexualization of women's bodies. She used far more explicit language than what Rehm — who declined to comment for this story — uses on her show, however.
"Claire wrote what she felt, and we were just like, 'Hey, yeah, that's awesome, we feel that way, too. Let's make it a song,'" Putnam-Smith says.
Diane Rehm the punk band started playing shows. They recorded a vicious demo — it starts off with a blast of a song called "Cystic Fibrosis" — and went on a short Midwestern tour. They say most people they talked to about the group's name knew who Diane Rehm was. Those who didn't got a short explanation.
"So many people at shows would ask if I was Diane," Korejsza says. "I felt like we were constantly plugging her show to people who didn't recognize it."
But the group wouldn't go much further than a demo and one tour. By early 2014, they had entered new phases in their lives. Cates wanted to relocate to Detroit to study photography. Murphy had moved to Germany. Amicably, Diane Rehm split up.
Now, Murphy tends bar in a Berlin hostel, and he's plotting a move to Ireland. Cates joined a band called Violent Mutation in Detroit. Korejsza and Putnam-Smith live in Grand Rapids, where she's still teaching and he floats from gig to gig, including a stint at a conveyer belt factory. All four ex-Diane Rehm members say they'd love to make music together again, if only they lived in the same place.
But Korejsza and Putnam-Smith have a new band. It's called Dakhma, named after the "towers of silence" where Zoroastrians traditionally laid out their dead.
Putnam-Smith laughs. "So we went from a non-stereotypical hardcore punk band name to a stereotypical one."
Both The Diane Rehm Show and Bandwidth are operated by WAMU.
The original version of this post misstated the number of people who hear The Diane Rehm Show. She's heard by more than 2 million listeners per week, not per day.