There are as many forms of therapy as there are musical microgenres—and choreographed dance is a preferred means of healing for D.C. bedroom-pop project Olivia Neutron-John. Anna Nasty, the mastermind behind the moniker, has been putting out dizzyingly emotional, "post-bro" songs under the name for a while. But Thursday, the artist finally releases Olivia Neutron-John's debut full-length, along with a distinctly simple, no-budget music video.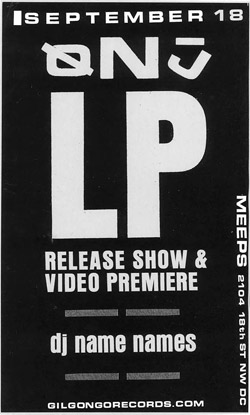 The video corresponds with Olivia Neutron-John's guttural, passionate track "death/tango." Back in May, Nasty—who also plays bass in Chain & the Gang—traveled to Philadelphia with Cigarette's Richard Howard to film the single-camera visual. Nasty directed and largely choreographed; Howard helped film and edit. The back-up dancers come from SWARM, a Philly-based music and dance group. In an email, Nasty writes that the video's main dance sequence was capped at three takes—and the team filmed the whole thing in a single night.
Nasty held quick rehearsals in Philly about a month before filming, and things just kind of worked out naturally. "Basically, I showed everyone the dance I had made for the song, and there were certain moves I imagined doing together, and other moves that were just for me to make," Nasty writes. "We all felt it out and the dance came together as a group."
Dance is a huge part of Nasty's intense live performances—behind a Casio, the artist jumps, kicks and lunges—so structuring the video around dance seemed like a no-brainer. Nasty's dance style and vocal delivery bear similarities: They're excruciatingly raw, and in this case, both reflect suffering. "The video is another way of articulating the pain I went through when my best friend passed away," the performer writes. "First through the song, then through the movement." The video is dedicated to Nasty's late friend, who went by Richie Terrific.
"I don't really know how to talk about dancing, as I'm not a trained dancer," Nasty writes, "but for me, dancing is moving in a way that only makes sense to you [and] letting your body be a violent reaction."
Now, the artist is on a path toward a calmer state of mind. "I guess you can never know for sure, but I feel like this is the last manifestation of this feeling (of not knowing how to cope)," Nasty writes. "I feel a new beginning. I feel at peace with it now, ready to celebrate his life and what it meant to me."
Olivia Neutron-John plays a release show Thursday, Sept. 18 at 8:30 p.m. at Meeps in Adams Morgan, and another show Friday, Sept. 26 at Comet Ping Pong.