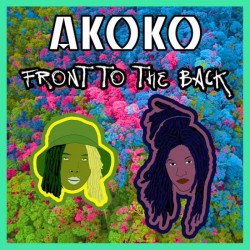 I already thought Akoko couldn't get any cooler, and now I know I was wrong, because the D.C. hip-hop duo's new video for single "Front to the Back (Pump Up the Bass)" shot their cool factor to stratospheric levels this week.
Premiered Wednesday on Exclaim, the video (directed by Jay Dexter) shows Akoko's Sloane Amelia and Sugg Savage chilling in a hair salon and slyly rocking out in what looks like a vibey basement, draped in accessories and backgrounded by animal print. So. Cool.
The track is the first single from Akoko's forthcoming project — a followup to 2013's Cataraps — expected out this year. Watch the video up top.