As a kid, Tia Abner rarely went anywhere without a notebook and pen. A poet from age 5, she began rapping in earnest when she discovered her cousin shared her obsession with Dr. Dre.
"I'd write a song down and then try to follow the format," says Abner, who now performs under the name Prowess the Testament. "I remember going to show [my cousin] all these lyrics I wrote out — and he pulls out his book and there's literally the same thing."
At that point, there was no looking back.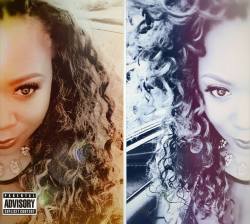 Now an experienced emcee, Abner has a writerly style and a fascination with the ancient and divine. Her artfully constructed lyrics betray her lifelong experience as a writer — and her verses are eclectic, touching on cosmology, philosophy, Egyptology and folklore.
All these elements rise to the surface on Prowess the Testament's new single, "Alpha Centauri." In the song's video, the Laurel, Maryland, rapper articulates her visions in a grimy setting — she posts up in an alleyway, standing before some of D.C.'s finest hip-hop artists: Enoch 7th Prophet, MC Logic, Ardamus and The Cornel West Theory's Tim Hicks, who also produced the song.
Abner says "Alpha Centauri" is about breaking out of conventional thought. "Much of my point was to remove that compartmentalized thinking that separates art and science into separate vocabularies," she says.
With its Kung Fu movie samples and breakbeats, the production on "Alpha Centauri" harks back to the golden age of Wu-Tang Clan. Abner's delivery steadily grows in intensity before the beat cuts out, pausing for Beethoven's "Für Elise." The moment is layered with meaning.
"It is intended to represent a deafening silence in the song," Abner says. "Beethoven allegedly composed ['Für Elise'] while nearly deaf. Scholars have been hypothesizing for years over who 'Elise' is… I like to think that Beethoven's muse was simply the stillness of silence."
Abner began releasing music in 1999 under the name Naiea. But the initial experience was overwhelming and left her burnt out. She moved to Africa, where her passion for hip-hop followed her in an unexpected way.
"I remember waking up in Kenya to Jeru the Damaja," Abner says. "I'm in the hills… 2,100 meters above sea level, and 'One Day' is blasting out of the compound… I literally fell out of the bed laughing."
Abner returned to the U.S. and began making music under the name Prowess the Testament, a name given to her by hip-hop elder statesman KRS-One. "Alpha Centauri" is her second single overall and the first from her new EP, Air​.​Human|Breath​.​Divine, officially out today.
In May, Abner drops another EP, called Right Where I Left It. She also hints at other surprises down the line, like an upcoming show with the Hip Hop Unforgettable Tour and a legendary boom-bap artist.
"I can't give away any secrets just yet," the lyricist says, "but I can promise it will be epic."
Prowess the Testament's new EP is available on Bandcamp.