"Why'd you stay in my house?" asks Bless singer and guitarist Luke Reddick on "Tru Bless House," stirring bassist Danny Sapperstein and drummer Owen Wuerker around an erratic three-note riff. He restates the question as the band repeats the groove into absurdity.
It's unclear whether Reddick is legitimately curious, or if he's just fond of the sound of the words.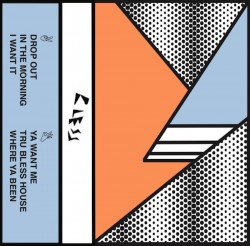 The song (watch the video below) came out of "thinking about architecture and how similar of an art form it is to music," the 19-year-old Arlington resident writes in an email. "Both performing music or constructing an object can take very long or happen very quickly and either way a product is made that can be either really interesting or really boring."
The band is similarly abstruse about its origin. Reddick — formerly of D.C. punk band Dudes — formed Bless earlier this year with the intent of "understanding and transcending boundaries of what the average person thinks is possible in music and sound." He works out arrangements with Sapperstein — whom he describes as "very classic, almost immortal" — and Wuerker.
The trio recorded its recent Bless Tape at Wuerker's house in Brookland on a reel previously used by fellow D.C. artist Andrew Aylward. A sample of one of Aylward's songs appears at the end of "Tru Bless House." Reddick calls its inclusion "kind of a mystery."
"Tru Bless House" is a moment of quiet reflection on a cassette release clattering with surf guitar, swinging rhythms and stuttering percussion. Reddick's baritone voice falls somewhere between a croon and a moan, often trading call-and-response vocals with Sapperstein's high-pitched warble. The result is a delirious vision of rock 'n' roll, akin to Royal Trux or Alex Chilton's weirder solo albums.
Reddick hopes the Bless Tape will encourage "rocking out and allowing as many people as possible to touch and feel our music with their hands and bodies."
Bless has a slate of upcoming gigs — including a tape release show Wednesday at Comet Ping Pong — but Reddick remains down to Earth about his goals.
"I would like to eat a nice sandwich in the near future," the musician writes, "as well as maybe read an interesting book."
Bless plays a tape release show July 22 at Comet Ping Pong with White Mystery, Dirty Fences and Homosuperior.