Black Ocean Waves, the third LP from Northern Virginia's masters of Southern metal, sounds cloaked in darkness to begin with. But it's Dave Hammerly's coarse vocals that bring a certain ruggedness to King Giant's sound. He comes across as a guy who has been through hard times.
That's because Hammerly and his bandmates have grappled with a series of setbacks in the run-up to Black Ocean Waves. In August 2011, King Giant's rhythm guitarist, David Kowalski, broke his femur while filming the music video for "Appomattox," the first track on King Giant's previous record. That LP, Dismal Hollow, came out in early 2012 — and while Kowalski managed to fight through his pain and play a release show while sitting in a chair, he had to undergo another surgery immediately after the performance.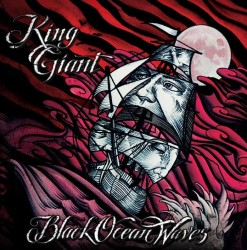 Then in October 2012, a week before King Giant was scheduled to play another local gig, lead guitarist Todd Ingram fell, breaking both his wrist and fretting hand. That injury — and the multiple surgeries and rehab it required — forced the band to cancel not only that comeback show, but also its entire Dismal Hollow tour.
Out of necessity, King Giant changed course. "For long periods of time we simply couldn't play live due to the medical issues," Ingram says. "So we just focused on writing and making a new album."
Fans got an early listen to that new album in May, when King Giant previewed it at a Metal Night I co-hosted at Fair Winds Brewing. The band had planned to sell Black Ocean Waves during its release show at Springfield, Virginia, venue Empire, until another setback struck: The venue abruptly shut down just weeks before the show.
Despite the string of bad luck, King Giant finally released Black Ocean Waves on June 30 — and fittingly, it's a gloomy record that still manages to find glimmers of hope amid the darkness.
The LP includes several uptempo — even catchy — tunes, including "Trail of Thorns" and "Requiem for a Drunkard," suggesting a resolute strength achieved through overcoming hardship. That hardship didn't just stem from the band's injuries.
The song "There Were Bells," Ingram says, "expresses our heartbreak at losing so many friends to addictions, suicide and other tragedies over the past few years. We have had to say goodbye to so many people we care about in such a short amount of time."
Elsewhere, Black Ocean Waves weaves tales of adventure and mishap, usually led by a tough-as-nails protagonist who busies himself by toppling obstacles, venturing on gruesome killing sprees and — in "Blood of the Lamb" — joining a church of snake handlers.
Hammerly excels at adding a relatable human element to these songs, and despite the often questionable ethics of the characters involved, he's surprisingly adept at making listeners feel as though they're walking in the narrator's shoes.
Take "Red Skies," which tells the story of a man lured onto a boat to be murdered by the ship's crew — except the crew has severely underestimated his tenacity, and they're the ones who end up dead. It's a macabre scene, but Hammerly doesn't tell the tale with the alpha-male, tough-guy tone you'd expect. He takes a left turn, focusing on the killer's ensuing struggle with guilt. (It also leaves the listener questioning if the crew actually intended to kill the narrator or if it was all a figment of his imagination.)
Doom and stoner metal have a long tradition in the Washington, D.C., region. King Giant has built on that tradition, but found an audience beyond typical metalheads. The band harnesses the fuzzy guitars of '70s heavy metal and Southern rock and adds the despair of blues and the storytelling of country western, imparting a blue-collar grit to the band's sound.
From solos bathed in wah-wah to whiskey-soaked tales of hardship, Black Ocean Waves sets a high-water mark for the region's metal scene this year. But it's King Giant's thoughtful songwriting — crafted with an eye toward the band's own hard-luck experiences — that gives the record its heft.
King Giant's Black Ocean Waves is available on iTunes and Bandcamp. Preview it below.