The title track on Young Summer's full-length debut, Siren, nearly didn't make the album at all.
"This song came out of nowhere. I'm lucky to have it," says Bobbie Allen, the D.C.-based singer behind the electronic dream-pop project. "But it almost flew by me."
Allen recorded the album at Ready Set Records in Nashville with singer-songwriter Trent Dabbs and producer Jeremy Bose. Recording days stretched on, and the trio usually hammered out two or three songs a day at their busiest. At the end of one of those days, with help from Dabbs, Allen came up with the lyrics and melody for "Siren."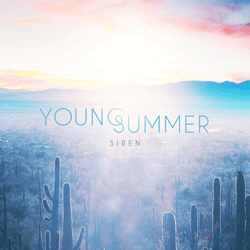 "I had an idea and it was really simplistic," she says. Though Allen says she likes to write big, emotional ballads with complex meanings, "Siren" was different. The song is slow and repetitive—like, well, a siren. "It's an easy song, perfect in its meaning," she says. "It doesn't mean too much."
Allen usually finds inspiration in Sinead O'Connor, Annie Lennox and Prince, but she had a different muse for "Siren": classic R&B. "I don't know why, but I picture The Ronettes," she says. "I even see arm motions in my head. I see Ed Sullivan, black-and-white TV, beehive hair."
Allen tracked the vocals for "Siren," then promptly forgot about the whole thing. "It was one of these afterthought songs," she says. But while on tour, Allen flashed back to a strange melody, and realized that forgotten song had reappeared in her head. So she called Bose, and together they retraced their digital steps. "We almost couldn't even find the track later," Allen says.
It's good they did. With an assist from Bose, Allen's simple idea became a three-and-a-half minute love song that sounds ready for radio. Allen liked it so much, she built an entire album around the tune's central theme: feeling deeply smitten.
"The more I listened to it, the more I fell in love with it. It became my favorite song on the record," she says.
Now, when Young Summer performs the song live, it grabs the audience's attention, she says—but not through sheer force. She thinks "Siren" breaks through the noise by being quieter, not louder, than everything else. "As soon as 'Siren' comes on, people are like, 'What?' It gets attention, which is funny because that's exactly what the song is about."
Young Summer's debut LP, Siren, comes out Aug. 26.