In terms of lineup, The Walking Sticks are D.C.'s Blonde Redhead: They've got two identical twin brothers and a lady. In terms of sound, they're still figuring that out: It hasn't even been two years since the band swapped out their acoustic guitars for a Casio.
The band's forthcoming EP, Pop Dreams, may find them further along their chosen path. Today Bandwidth premieres "Bang," a cut from the EP that builds on the silky sound The Walking Sticks began to construct on their 2013 release, Send the Night. Conveniently, the new tune arrives one day before the band plays a special show at DC9, where they'll be taping footage for a new music video—one that involves choreographed dance.
Dream pop? Choreography? The Walking Sticks are running it all up the flagpole. They seem happy that way—maybe because in a past life, the band's members didn't have the advantage of a long leash.
The Walking Sticks' Max and Spencer Ernst, 24, were thrust into the music biz at a young age, an experience they discuss in a short film that documents the band's early days. The multi-instrumentalists were discovered by an industry rep at a high school gig, and soon found themselves recording music that didn't feel like their own.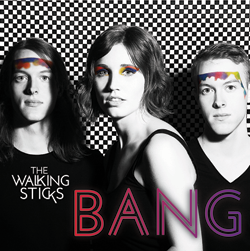 "We made a lot of recordings where we weren't playing our own instruments," Max says in the film. "We thought that's how it should be, that's the system," adds Spencer. "We thought maybe someday we'd be good enough to play our own instruments."
Their time in the industry lasted five years. They later started The Walking Sticks as something of a folk act, and released their debut album, World So Bright, in 2012. Then along came McLean native Chelsea Lee, another young talent who had been through the system: A friend of the brothers, the now-23-year-old released 18 and Alive on Atlantic Records in 2011. She joined the band in 2013, and that's when their sound began to change.
"When Chelsea teamed up with us, our sound quickly evolved into dream pop/synth pop," writes Spencer in an email. A neighbor gave them a 1980s-era Casio synth that had never been taken out of the box, and the band got to work reinventing itself.
Send the Night marked a new day for The Walking Sticks: They'd held onto their pop sensibility, but channeled it into a dreamier sound. The EP's sophisticated title track sounded like a flag being planted—and by the end of 2013, "Send the Night" stood out as one of the year's best local songs.
Out Nov. 11, Pop Dreams promises to pick up where Send the Night left off. "One Sweet Thing," the focus of tomorrow's video shoot, bounces around a simple, effective hook; "Bang" prefers to glide.
"When I was 10 years old, I was obsessed with Sting's song 'A Thousand Years,' and 'Bang' brought up a lot of those same emotions for me while we were building the track," writes Max. It's a surprisingly adult-contempo reference point for a young guy—but can a band be called adult contemporary when its oldest members are 24 years old?
Also, can adult-contempo be fun? Because The Walking Sticks appear to be having a lot of it—particularly in the instructional video they made in advance of their show tomorrow night. Then again, it seems like disciplined fun.
Just listen to Greg Lukens, the video's narrator. Stretch before you dance, he advises. But be careful not to get too loose. "Alcohol is not recommended before attempting these moves."