Along with Teen Liver and Foul Swoops, The Doozies were a rising presence amid D.C.'s nascent garage-rock crew. But there's some bad news for local fans: They belong to Brooklyn now.
Brothers Dave and Henry Van Dusen—who are 24 and 21, respectively—moved their band north earlier this year, though the change in scene has less to do with big time indie-rock dreams than practicality. "Henry goes to Columbia," says Dave, speaking on the phone from outside of Las Cruces, New Mexico, where the band was taking a pit stop on the way to its next gig in Marfa, Texas. "Living there means that we're able to do the band while he's in school."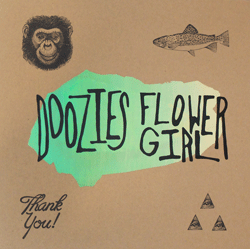 The Van Dusens began playing lo-fi garage pop—or as they would label it, "cheeseburger rock"—as The Doozies around 2010. Since then, they've released two digital-only records: a self-titled full-length and the Ruby EP which arrived via D.C.'s Windian Records.
Out now on Aloe Music, Live in the Basement—a split LP with fellow Brooklynites and current tourmates Flower Girl—is their first physical release. It's a solid collection of three-chord rock with melodies that evoke lo-fi royalty like The Clean and the In the Red Records roster. But on the record's standout track, "Me + You," The Doozies take a break from breeziness and inject a little bit of slacker ennui into their songwriting, singing about breaking down and feeling blue: "I've got the blues, like I always do/It's not good for me, it's not good for you."
According to Dave Van Dusen, the band's summer tour is having its ups and downs. "Phoenix was fun, but it was so hot," he says. "On stage, we were like, 'It's our first time in Phoenix!' and somebody in the audience yelled back, 'Yeah, it sucks!'"
Elsewhere, an in-store show at Salt Lake City's Diabolical Records was cancelled after the owner bolted to search for his missing dog. "We did not get to play," Van Dusen says. "But the dog is safe."