Swings' new song "Heavy Manner" may sound like a hybrid of shoegaze and slacker rock, but the D.C. band cites a slightly different influence: DJ Rashad.
Based in Tenleytown and Capitol Hill, the trio (formerly Anchor 3) says it was obsessively listening to the late Chicago footwork pioneer while formulating what would be its forthcoming album, Detergent Hymns, out Jan. 17.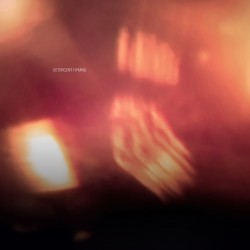 "For me, ["Heavy Manner" is] like a trance club banger," says bassist Zach Lewton, 20. Guitarist and vocalist Jamie Finucane, 19, says it's supposed to be repetitive — wavelike. They call it a "straight rip-off" of Rashad, but the listener would be forgiven for not picking up on that.
"Most of the trouble we had with writing 'Heavy Manner' was trying to incorporate the footwork beat into one of our songs in general," Finucane writes in an email. "It's a beat that comes from black Chicago dance culture, and [it's] pretty different from anything we ever play, despite how much we listen to it. So it was kind of a challenge to incorporate it in a non-gimmicky and non-appropriative way, without a 'wink wink ha ha' kind of vibe."
While the Rashad influence is unexpected, the lyrics' inspiration may surprise most of all. "I guess it's just about weight," says Finucane. "About emotional weight in general, but through a metaphor of eating a pizza and stuff." The opening line — "I didn't know I'd burn my tongue on you, but at least I'm alive" — was inspired by a tweet from Finucane's girlfriend, who put a minor pizza-induced injury into admirable perspective.
Compared to the rest of the songs on Detergent Hymns, "Heavy Manner" took the most time to finish. "That song had a lot of periods it went through, and it wasn't really finalized until we actually recorded," says drummer Dan Howard, 19. "We were trying to stitch together a lot of disparate things for a while," Lewton adds. But the recording process whizzed by: For the most part, the ensemble tracked it straight through in about an hour and a half at Howard's aunt's home in Timberville, Virginia.
When Bandwidth spoke to Swings, the band was back at the Virginia studio, hard at work on whatever album comes after Detergent Hymns. Why the rush? The trio has to be disciplined with its schedule — every member is still in college.