Jahn Alexander Teetsov and Evan Maxwell Grice met when they were 11 and 10 years old at a summer camp that put kids in rock bands. More than a decade later, they're still making music together, only now they're crafting something slightly more adult: brooding synthpop.
"We casually kept in touch over the years," says Teetsov, 24, but the two didn't formally reconnect until a couple of years ago. Their electronic project, Pleasure Curses, began to take shape less than a year later. Now the duo—based in Northern Virginia—has a string of increasingly well-crafted songs under its belt, the most recent of which—"Burn"—gets a release party tonight at D.C. nightspot Dunya.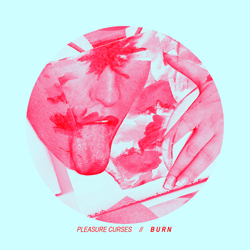 For "Burn," Teetsov and Grice worked with Brett and Furniteur producer Kevin Bayly, whose label, Prince George Records, is co-releasing the single (with Boston's Bob Records) as a split 7-inch with Brooklyn garage-pop band Boytoy.
The pair say they met Bayly at a house show, hit it off and later recorded the single at his home studio. The tune sounds icy, but it actually came out of a dead-hot D.C. summer. "I remember us having to turn all the fans off in the house during one of the hottest days of the summer so it wouldn't get picked up in the takes," Teetsov says.
The lyrics sound similar to ones Teetsov has written before—moody and a little open-ended, like the stuff of his synthpop forebears. "A lot of my lyrics are about a feeling or a social dynamic between people rather than a specific event that happened exactly to me in narrative form," he says. He first wrote the lyrics a few years ago while living in the U.K. and observing human interactions at night, like a David Attenborough for the English clubbing scene.
"When I first wrote the song, I used to go to these kind of rough night clubs in northern England and would people-watch. Some people are out to get in a fight or gain a conquest or find love, and everything is reduced to this primal level because you can't really carry on a quiet conversation in a place where music is blasting and everyone is in an altered state," Teetsov says. "'Burning' can refer to seeing something incendiary about another person's 'aura' in those moments or purging of a relationship."
But ultimately, the songwriter says, the song's meaning is "up for the listener to interpret."
Pleasure Curses perform live tonight at Dunya with DJ sets from Nightbird, M.O.T.M. and Mike Simonetti. Purchase the "Burn" 7-inch at the show or via Prince George Records' website.