"Oblivion" makes us think of mass destruction. But the word's most basic meaning describes little more than the state of being out of sight or forgotten. In that light, it sounds almost positive. Would a mountain called Oblivion spell certain doom? Or could it be a place to get away from it all?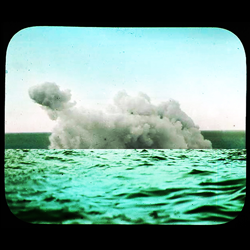 That question emerges on the flip side of a new single from D.C. rock trio More Humans. Released in October, "Disaster/Mt. Oblivion" is the band's first new recording since 2011's critically lauded Demon Station EP. The B-side maintains the band's career-long predilection for logic puzzles and words with unexpected meanings, and in this case, the language gets outright odd, combining lost keys, proselytizers and an ominous-sounding "cafeteria of your depraved soul."
"This song is about the places where you escape or drift off to in your mind, and the idea that you can't stay there," emails Clinton Doggett, one of the band's two singer/guitarists. The song's quiet-loud structure suggests that temporary state of being: "Mt. Oblivion" wanders from a subdued trot to tempestuous peaks of pounding drums and guitars. In the quieter moments, the band croons sweetly in close harmonies. The progression is a long rise and fall from peaks to valleys, tied together by a dreamlike rhythm. "It's supposed to be a little bit pretty," Doggett writes, "but hopefully a little unsettling as well."
"Disaster/Mt. Oblivion" represents a stop along the way to Hot Cloud, More Humans' next album scheduled to come out early next year. "For both of these tracks, we intended to do something a bit more pared down and raw," Doggett writes. The work-in-progress reunites More Humans with Chad Clark and Nick Anderson, the Arlington duo that helped produce Demon Station. Doggett promises the LP will be a grander affair than the two teasers. "We've had a lot of smaller releases over the years, and Hot Cloud is our attempt at something a little bigger in scale," he writes.
More Humans is performing locally in the meantime, chiseling its way toward the meeting point of the sharp and the playful, and allowing the antihumor of its name to double as a guiding principle. As Doggett writes, "The intent is very much to present ourselves (Humans!), but also to cut through the typical mystique of the performing band."