If the first few bars of Misun's "Eli Eli" remind you of The Rolling Stones' "Under My Thumb," you aren't alone. But the ex-D.C. band's producer and guitarist Nacey (Andrew Wallace) says his group—which has been based in Los Angeles for the last year—didn't deliberately borrow inspiration from the Stones hit.
"That's the first I heard of that," he says. Chalk it up to a deep appreciation for a 1960s sound, then.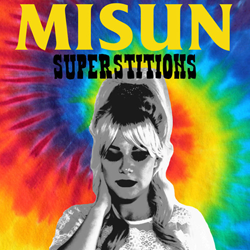 Wallace says "Eli Eli," the first track from Misun's Superstitions—the trio's new album out today—gleans from Motown, "with a Spaghetti Western surf-guitar feel." For a band that calls itself "aquawave," that feels like an appropriately catholic description.
Misun's songs usually peddle vintage-inspired, danceable grooves and an upbeat, fun feel. "Eli Eli" is no different, with guitars that both pulse and meander and Wojcik's powerful, slightly husky wail. Band namesake and singer Misun Wojcik describes the song as "just good vibes, really." But the true inspiration behind "Eli Eli" isn't so sunny.
"For me, it's just an accumulation of all the times that you just repeatedly feel down," says Wojcik, who also plays keys. "Just wanting one more second of joy in your life where you can take it, because you need it so bad." That underside reveals itself in the lyrics ("Give me just one more happy moment"), despite the danceable packaging. But if a sad song is sung in a fun way, is it still a sad song?
"Eli Eli" first came out on Kitsuné America 3, a compilation released in June by the French record label and clothing line. "They just hit us up directly to our email," says Nacey. The ensemble had just finished recording the track, so it offered it up fresh from the oven. "We've been fans of what [Kitsuné has] done over the years, and it was really cool to work with them because I think they exposed our sound to a lot of people in France and the U.K.," the producer says. "I think our music sounds very American."
Misun also sounds as distinctive as it did on its 2012 EP debut, The Sea, but Superstitions shows the band shifting slightly, embracing a throwback sound with arms wide open.
"I think it's just another color on our palette for sure," says Wojcik. "It still has the same qualities that all our other songs have, but something a little different."