In Ryan McLaughlin's eyes, Joy Buttons hasn't changed dramatically over the last two years.
The frenetic D.C. punk band still plays the same brand of breakneck songs found on its debut EP—the kind that charge through post-hardcore and punk blastbeats. The group still screams lyrics and blares its songs to crowds of sweaty kids in basements.
But McLaughlin—one of two guitarists in the band and a veteran of D.C.'s punk and hardcore scene—says he can see changes creeping in. They come from the group's two years together, which have given Joy Buttons' members time to get comfortable with each other and find a sound of their own. It doesn't hurt that those players have been performing music for years, and they all sit in the middle of a D.C. rock-music Venn diagram: Singer Brandon Moses also makes tunes with Laughing Man and Paperhaus, bassist Matt Dowling splits his time in Deleted Scenes and The Effects, guitarist Erik Sleight plays in Br'er and McLaughlin shares his talents with Typefighter and new band Polyon.
"They know how to write a song and know how to be in a band," says McLaughlin.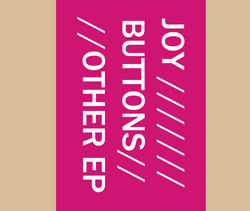 That could explain the maturity found on Joy Buttons' new EP, Other, released Tuesday. Its four songs sound punk, but they're melodically sophisticated, more in line with the pop-punk label McLaughlin applies to the band.
"It's a little bit more evolved, soundwise," McLaughlin says of the release. "We spent a little more time honing the songs. We've gotten to know our sound a little better."
There's no clearer example of that growth than the record's title track. "Other" opens with a hip-shaking drum line that backs subtle bass and reverb-laden guitar—a combination that could find a home on the dreamiest of pop tracks. But by its midway point, the song devolves back into punk sludge, with Moses wailing a kind of dark philosophy: "Is this life as simple as good and evil?/Make yourself your enemy, come full circle."
The pretty beginning and the noisy ending was the whole idea for the song, McLaughlin says, and it's something the band didn't attempt during the rush to put together its first EP, last November's Arkhipov. Now, "Other" stands as a signpost on the way to progress—an indicator of an already good band getting better together.