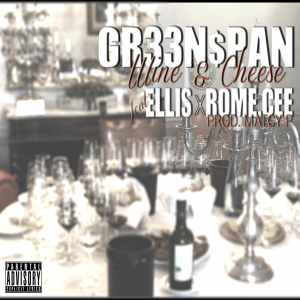 Baltimore's diffuse, diverse hip-hop scene has enjoyed a bumper crop of thoughtful, well-crafted albums in the last few months. Chief among them are Ellis' cinematic "The Education Of Ellis," released in December; Greenspan's musically adventurous "Stairway To Heaven," released in January; and Rome Cee's autobiographical "EarthSide," released in February. These kinds of cerebral, album-length statements don't lend themselves to hit singles that easily put across what these guys have to say. Fortunately, all three of them came together recently for a one-off collaboration, "Wine & Cheese," that gives each MC a chance to shine.
In lieu of a hook, the verses on "Wine & Cheese" are bracketed by spoken samples of some scholar or talking head opining about class inequality in America. Greenspan lucidly expounds on the differences between his life and that of a privileged child, while Ellis plays the paranoid conspiracy buff, offering theories about healthcare and gun control, while Rome Cee bats cleanup with the kind of slick, Nas-influenced delivery that makes his turns of phrase sound razor sharp. It's not a radio smash, but hopefully it will tip more people off to the gems all three of these guys have been dropping regularly for the last few years.
Warning: "Wine & Cheese" contains explicit lyrics.