Kevin Hammond was 14 when he saw D.C. go-go band Rare Essence — in matching red sweatsuits — perform at Prince George's Community College. The band didn't do a song, stop, then start another one like other groups he knew. Essence just kept going. It was 1979, and that show changed Hammond's life.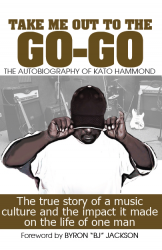 This year Hammond — who goes by Kato — turns 50. After that Rare Essence gig, he went on to sing and play guitar in go-go bands Pure Elegance and Little Benny and the Masters and rap in Proper Utensils. In 1996 he founded the website that would become a news source for the go-go community: Take Me Out to the Go-Go. It's still active today.
Today, Hammond releases his self-published memoir, called, of course, Take Me Out To The Go-Go. It's different from go-go books like The Beat by Kip Lornell and Charles Stephenson and Go-Go Live by Natalie Hopkinson, which take a historical view of D.C.'s homegrown music. Hammond's volume is instead a personal tale, exploring his life story and the hold that go-go has had over him for nearly four decades.
The memoir doesn't discuss go-go like it has been in the media, either. There is little discussion of go-go clubs getting shut down, how white locals perceived Mayor Marion Barry — whose tenure coincided with the explosion of go-go music — or D.C.'s erstwhile reputation as America's murder capital. Readers also don't get full character studies of the stars of go-go, or details of how shows at Club LeBaron in Palmer Park compared to those at the Black Hole on Georgia Avenue or the Panorama Room in Anacostia. Discussion of Hammond's website and magazine gets lost at times, too.
But we do learn a lot about Hammond — how a mugger made off with his leather jacket, whose pocket held one of his favorite go-go tapes; how racism affected him when he got wrongly blamed for theft in the Army. He writes about how he, as a teen, stole his lunches at school to save money for the $5 admission to Friday go-go gigs at Howard Theatre, where he looked down from the balcony, studying all aspects of Rare Essence's presentation.
While the level of detail in his book — like his lists of seemingly every bandmate in all of his bands — may mostly be of interest to fanatics, he also offers glimpses of how Chuck Brown, Trouble Funk and E.U. differed from each other musically despite their common genre, and he conveys the deep sense of satisfaction he felt the one time he played a big go-go bill at Maryland's Capital Centre.
In advance of the book's release, Kato Hammond spoke to me on the phone. We talked about how go-go interfered with his love life, the pain he felt getting kicked out of go-go bands and his days at D.C.'s Duke Ellington School of the Arts, where he met other students who would go on to be prominent go-go musicians.
This interview has been edited for clarity and length.
Bandwidth: When did you start writing the book?
Kato Hammond: I had started it right at the time [go-go trumpeter and vocalist] Little Benny passed away [in 2010]. Because Benny used to always talk about writing his book, writing his book, writing his book. But he was always so busy, he never got around to writing it. He talked to Tahira Chloe Mahdi [a local writer and broadcaster also known as "99"] about getting together and her writing it for him. But it never happened.
I got more serious about it in the past six months. My goal was to have it finished by the end of the year. To make time for it. You're a writer, you got to make time for it and not procrastinate and talk yourself out of it. Another thing was I turn 50 this year. I got kids who are older now. Two of them have kids. I just wanted them to know my story. I promised them. There's stuff in it they don't even know. They just knew daddy played music.
In the book you describe how, as a kid, you learned guitar in part from sitting in a small apartment room, closely watching a musician you knew as Littlejohn — from The Jaguars — perform.
That was pre-go-go. Even to this day it affects how I listen to music. Littlejohn would practice as if he was onstage. He'd have his microphone stand set up in his room. Before that I would just practice with my guitar sitting in my lap.
"I remember my cousin used to have his girlfriend hold the tape recorder [up to the speaker] while he was partying [at the go-go]. Then they would argue about that, with her complaining it wasn't fair."
It was interesting that you discovered that Rare Essence's impressive choreographed dance steps back then were taught to them by the D.C.-based Bren-Carr dancers.
I just happened to later on find that out. Meanwhile with Benny, he'd go back to them to work on steps. I don't remember whether I put it in the book, but when Benny was at that first Capital Centre go-go show — I wasn't with him then — he was playing "Cat in the Hat" and he had four girls come out in cat outfits and [do] choreographed steps. That was them, the Bren-Carr dancers.
So going back earlier, in 1979, there was no problem with you bringing in a tape recorder to Club LeBaron?
Back then they didn't stop you from bringing in a tape recorder to a go-go. Back then it was normal. Early tapes then were made by people just putting their big boomboxes up by the speakers and recording. I don't know the detailed history of PA tapes, but I think that is when they decided to start taping shows from the PA board and stop allowing people to do it. Some people were dancing, some people watched the band and some people were recording. I remember my cousin used to have his girlfriend hold the tape recorder while he was partying. Then they would argue about that, with her complaining it wasn't fair.
Hearing about you and all the teenagers getting jobs as musicians and other positions as part of Mayor Barry's D.C. Summer Youth Program jobs had me thinking Baltimore needs something like that.
Exactly. I was talking with someone about Baltimore and they were saying, "Kato, you don't realize how fortunate you guys had it." I said, "You have a point." But I think we were at the age that it was new at the time. We just had to remember to sign up before it was too late.
During your brief time at Duke Ellington School of the Arts, you met go-go musicians like Donnell Floyd and others.
I met and knew all of them then. I didn't want to make the book just Donnell's story. I don't know if I put it in the book, but I remember in 10th grade, the rumor was that Donnell was in Rare Essence, but I didn't see him with them. It turns out he was first just practicing with them and then he later joined them onstage.
Was it hard — with your family potentially reading this — that you write about and convey your guilt about stealing a car with your buddies and leaving the woman in tears?
I put that in to show what kind of trouble youth can get into when they don't have an outlet. If I had not met the girlfriend who went to Duke Ellington School, if I hadn't known the girl at Bowie High who told me about the playwriting contest that brought me up to New York, that was all like a whole different new world. I was trying to show that youth don't know what's out there because they have never seen or experienced it.
The car thing was a spur-of-the-moment, dumb thing. I don't fault the mother of that youth [hitting him and keeping him out of rioting] in Baltimore. With the youth, it's that peer thing and not realizing the seriousness of it. I think that situation later — when I got robbed — was probably my get-back for what I did earlier.
"Every relationship I was in ended because of go-go. My marriage ended because of TMOTTGoGo."
You briefly mentioned after returning from the Army becoming a father and getting sole custody of your daughter Krystina, and your aunt June helped take care of her.
That was a whole story in itself, but I didn't put it in the book. She's 27 now.
How did you decide what non-go-go stuff to put in the book and what to omit?
I knew I did not want to put her in there. Even later on, you notice I talk about different girlfriends… I mention my marriage, but not her name. I consciously tried not to talk about the details of my family life. I wanted to touch on a constant thing with me, [which] was that every relationship I was in ended because of go-go. My marriage ended because of TMOTTGoGo. I wasn't actively in a band anymore, but all my time was spent on TMOTT stuff. Her complaint was I was on the computer too much. I can't win.
Getting kicked out of Pure Elegance and Little Benny and the Masters, and being told to switch to rap and not play guitar with Proper Utensils, must not have been easy.
I was crushed with the Pure Elegance thing. I was blindsided by both [dismissals]. With the Benny thing, I am real, real close with one of Benny's sisters. I didn't put it in there. When I put in there about living with Jacques [Johnson, a guitarist], one of Benny's sisters lived with us, too. We weren't a couple, we just shared an apartment. I was real close with Benny's family. But I didn't want to put that part in there.
"Egos were very big in go-go."
When you went to see Benny perform onstage again a few weeks later, weren't you worried Benny would tell you to leave?
Benny was never a bad guy. That wasn't the kind of thing he would say. I was still close to his family and there wasn't any animosity to it, although I was hurt by it. I wasn't surprised the next guitarist [he had] didn't work out. Sometimes you make the choice — do you want the best person in the world or the most dedicated? I would go with the most dedicated because they can get better. The best person might have too much of an ego. Egos were very big in go-go. The Pure Elegance thing was worse because we went to Bowie High together, and then we worked together in the day at the same job. So I was probably more thrown off by that then the other.
You said the TMOTTGoGo chatboard in the early years, before current social media, had lots of commenters. Do you miss that?
No, I don't really miss it. Those people you see now on the Facebook go-go groups are the exact same people you would see then on the boards. We have known each other so long. There are people on those boards who have gotten married and had kids. The other thing is that back then, the Internet was fresh and new, and anything that anyone said on it got blamed on me.
Kato Hammond's memoir, Take Me Out to the Go-Go, is available now on Amazon.