The bottom-heavy, trunk-rattling rap music that came out of California in the '90s blew speakers — and the mind of hip-hop producer Judah.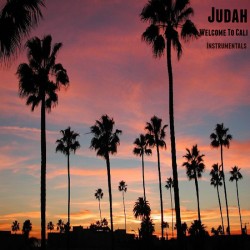 "The sounds they used in their beats inspired me," the Southern Maryland producer writes in an email. "The swing, the synths, the funk-influenced grooves and bounce was amazing to me."
He's talking about G-funk, the dominant sound of West Coast hip-hop in the '90s, popularized by artists like Dr. Dre and DJ Quik. But Judah says it was another producer — Battlecat — who turned him on to the California vibe of that time.
"[Battlecat] made me really appreciate the Cali sound," writes Judah, 36. "[He] was a beast and produced for all the Cali greats."
So while working with a few artists on the West Coast between 2000 and 2005, Judah made a string of California instrumentals that sound like the work of Battlecat. He released them this week on a collection called Trips to California (Instrumentals), right in time for Straight Outta Compton — the new box office-busting film about the rise of Los Angeles hip-hop group N.W.A. — and Dr. Dre's new record.
"I had a 100 gigs worth of stuff on this hard drive labeled 'Cali,'" Judah writes. "The light bulb went off: Hey, Straight Outta Compton coming out and Dre got an album out… Might as well let these beats fly."
The track "L.A. Riots" (listen below), which Judah laced with news reports from the 1992 Rodney King uprising, captures a bleakness that felt central to L.A. gangster rap.
"Their beats also had a sinister sound to it and [I] think that was inspired by their environment and gang scene," Judah writes.
The producer built his California tracks with an Akai MPC 2000CL, an MPC60 and a Yamaha Motif — gear he says is "obsolete these days." It resulted in a work that feels like a time capsule.
Besides Trips to California, Judah says he has other music in the works, like "some concept albums I been sitting on." He recently wrapped projects with Kelly Rowland of Destiny's Child, Rita Ora and D.C.-area hip-hop artist RAtheMC. But he's still independent, he says.
"[I'm] keeping it indie and creating my own economy and projects that eventually generate money," Judah writes.
Not that Trips to California promises to be a cash cow. Judah put the tunes on Bandcamp, where they can be purchased or streamed for free.
Photo by Flickr user Doc Searls used under a Creative Commons license.