The Mynabirds' Laura Burhenn, a D.C. native, knows how tough committed relationships can be. Her band's third album, Lovers Know, takes listeners on a bumpy ride along the road of romantic entanglement.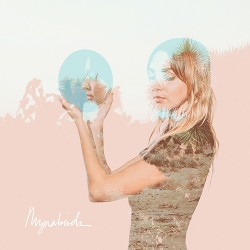 Burhenn has gone through big personal changes lately, including a move to Los Angeles (from Omaha, Nebraska) and a difficult breakup. She says it had been her longest relationship yet.
"I think our generation particularly struggles with intimacy and the concept of long-term relationships," says Burhenn, who used to play in D.C. indie-pop band Georgie James. "We're a generation who — most of us — are a product of divorced families, and I think we just don't have faith in long-term love."
But Burhenn says she hasn't lost all of her faith. A couple of songs on the album — including "Semantics" and opener "All My Heart" — express being heartbroken while holding onto hope.
"'Semantics,'" Burhenn says, "is about arguing with a lover — or even with yourself — [about whether] the glass [is] half full or half empty. At the end of the day, someone might say, 'Well, it's the same amount of water. It doesn't matter what you call it,'" Burhenn says. "I'm like, 'No, it does matter.' In order to be hopeful… you have to espouse that whole philosophy."
Both the album's lyrics and music depart dramatically from her band's 2012 album, GENERALS.
"I'm a big fan of artists who aren't afraid to delve into new types of music, and even take on whole new personas album to album," Burhenn says. "People like David Bowie or PJ Harvey."
This album, Burhenn says, feels dreamier and more lush. It sounds more electronic, drawing from the 1980s and '90s, and touches on a few different themes. GENERALS was much more politically charged, raw and rhythmic.
"On my album GENERALS, I was asking this question: 'What can we do in the face of so many things that are wrong in the world, and what is it that can make us feel or be powerful individually?'" Burhenn says.
Asking that question led to an awakening.
"At the end of the album I kind of came to the answer: love. Love is the answer," she says. "And I thought, 'Oh my God, that's so trite.' But I think it kind of set me up to make an album of love songs."
The Mynabirds play U Street Music Hall Sept. 26. See the band perform "Wildfire" live for KEXP.