The last thing anyone would say about South By Southwest is that it's an avenue for self-improvement. The annual mega gathering, which began last week for film and interactive-technology mavens and turns into a music conference and festival tomorrow, fulfills many needs for the culture nerd. Communal bonding? Yes – somewhere around 100,000 people will wander the Austin streets looking to high-five each other during this time. Fun? For sure. This is the entertainment industry's spring break, with much better music that what you'd hear at the Flora-Bama border, and mercifully fewer bros in board shorts. Excess? That's a given, whether your pleasure comes in a plastic cup, folded into a tortilla or pouring out of a nightclub's speakers. But soul edification? Inner peace? It's about as likely to hit you at SXSW as it is during a game of Temple Run.
Yet after twenty-plus years of on-and-off attendance, I've discovered that there is a key to discovering the Hidden Wisdom of South By Southwest. This kind of self-help goes beyond what any herbal remedy, extra phone battery or pair of sensible shoes offers. Those practical survival tools are givens. So is some modicum of misery, born of overabundance. That's the paradox of choice. But the too-muchness of SXSW can become a route to knowing yourself better, as a music lover, a listener, and a cultural explorer.
Here are some things you can do to make your South By Southwest experience not just a gauntlet to survive, but also a source of renewal. Making these choices can benefit anyone who comes to Austin, badge on lanyard – newcomers and veterans alike – and even those following along remotely, from the comfort of a Wi-Fi enabled home. It turns out that what makes South By Southwest more than bearable is exactly what makes loving music so important. To quote my favorite actual self-help book, it's all about embracing the full catastrophe.
Copyright 2014 NPR. To see more, visit http://www.npr.org/.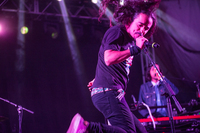 1. Go global.

Travel can expand you, and in Austin, you can cross half a dozen time zones most nights without even leaving downtown. The international scope of SXSW is one of its most impressive elements. Where else can you see South Korea's biggest rock band one night and a Norwegian psych-rock supergroup the next? Exploring international music in Austin is a great way to attune your ears to wider frequencies in general. Newcomers will learn whole new languages, if not literally, in spirit. For veterans, there's no better way to get out of a listening rut. Folks playing at home can create their own staycation by going through globally-minded attendees' playlists at their own pace.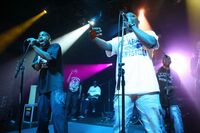 2. Stay at one venue all night.
Like so many aspects of the wired world, SXSW offers far too much choice for mere humans to manage. One coping mechanism can actually become a kind of mind-body practice. Sit still. Choose a venue, and just stay there as one artist surrenders the stage to another. Such a calm approach combats the worst problem of the festival — missing every set you want to see because you can't get from venue to venue quickly enough. More than that, it allows for space to open up inside, in the meditative moments between sets. Newbies need this break from cultural ADHD more than anyone, and veterans can rest their older backs as well as their brains. Online opportunities like this abound, for those at home, too; start with NPR Music's own showcase, streaming from Stubb's on Wednesday night.
3. Go to a panel or two.
South By Southwest started as a small gathering where people really talked to each other, not just about music and barbecue, but about the practice of music-making. That part of the conference still exists, though it can get lost among all the day parties. Go find it. The panels offered daily at the Austin Convention Center feature the most exciting thinkers in music and technology today, talking informally about every aspect of music culture. Newcomers can gather practical advice and learn history at panels, while avoiding too-many-margaritas burnout. Veterans can loosen up old ways of thinking. Remote followers who are up (and probably at work) while the ears of Austin's late-to-rise hordes are still ringing softly on their pillows can find out what ideas are catching fire by checking in with the bloggers who get up before 3 p.m. each day and grab serious material.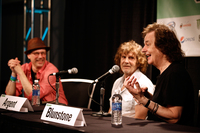 4. Listen to what the musicians have to say, not just what they play.

Everybody knows that the musical sets at SXSW can be hit or miss. Time constraints, shared sound systems and overcrowded rooms work against artists really shining. You know where that happens? Back at the conference, where artists in one-on-one public conversations share stories and insights in a relaxed atmosphere. This year's line-up includes, among others, Blondie, Gary Numan, Sean "Diddy" Combs, Cee Lo Green, Ana Tijoux and St. Vincent (I'm doing that one. Can't wait!) I'm perennially shocked that every one of these special events isn't packed; people are too busy eating migas to partake, I guess. But the benefits are obvious. Newbies can bask in the aura of heroes. Veterans can get on the mic and ask that question they've always wanted to ask. And for those at home, SXSW archives many of these conversations, along with other panels. So you can luxuriate in superstar insights while taking a bath.
5. Enjoy the accidents.
Here's one case where a self-help bromide really applies to the particularities of SXSW. Let go. Things will go wrong. You won't be able to make it to La Zona Rosa at midnight; the line for your fifth-choice day party will stretch around the block; you'll have forgotten your earplugs at an "acoustic" set that turns out to be louder than Metallica. When these little disasters happen, just do something different. SXSW is sprawl at a level that Rust Cohle couldn't imagine. A million amazing things take place simultaneously, from satellite festivals to unofficial bar shows to busking sessions and hotel room sets. Newbies will get a rush by simply immersing in the flow. For veterans, loosened schedules create chances to tap into longstanding information networks and find something great beyond the madding crowds. Remote observers will enjoy the benefits of these roulette spins in time, because surprise is often what reveals the next buzz band.
6. Make a new friend and let them lead.
A hundred thousand people, and you're just going to hang with your old pals? It's natural, and on some level safer, to stick to companions you know. Wild cards fill the streets during SXSW. But if your head is clear, don't be afraid to strike up conversations. Newcomers, you need mentors. If you hear a wise voice on a panel, connect afterwards; often, people are happy to share expertise and even maybe a coffee. Elders, the kids know where the scene you haven't yet discovered is forming. Share a pedicab across the freeway. And Web-enabled observers, you have the biggest collection of new friends at your disposal — get on Twitter or in a chat room and benefit from others' adventure stories. Whole new worlds of listening are just a recommendation away.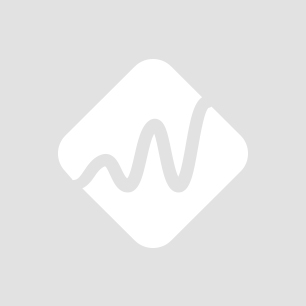 One last thing:
And this leads to my final word of wisdom about SXSW. It doesn't stop in March. I could mean this in some kind of spiritual way — keep that feeling of serendipity alive in your ever-rockin' soul! -- but really, all I mean is at least half of the artists you wanted to see will be playing your town before the end of October. And if you'd rather just stay inside forever, there are those Web archives to explore. So don't despair. Never despair. The Hidden Wisdom will carry you through.