Reverb has been back for years now, but psychedelic-rock trio The Beginner's Mynd takes a different road than its shoegaze-loving peers. The D.C. group's new single, "I Found You Out" (listen below), is more Summer of Love than Loveless, replete with jangly guitars and the distinctive warble of a Farfisa organ.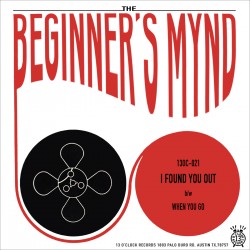 Dan McNabb, the band's guitarist, lead singer and primary songwriter, concedes his preference for a simpler approach.
"I like the three-minute pop song for its brevity, and [I] appreciate being left wanting more," the Mount Pleasant resident writes in an email.
Like any great pop song, "I Found You Out" was built to be short, catchy and relatable. But McNabb would rather not delve into the lyrics.
"I don't like songs to be too much about one specific thing," he writes. "I like the mystery of other people's songs. Give me the mystery, let me try to figure it out for myself so it can be mine. I want to make sure I give people the same opportunity."
McNabb started The Beginner's Mynd several years ago as a solo recording project. The name refers to a Buddhist term for the endless possibilities open to a novice — and that cute "y" in "mind" nods to the creative spelling used by '60s psych-rock bands. McNabb calls the moniker "a name to write on the demo tapes that I thought nobody would ever hear."
But when McNabb shared his early recordings with two Alexandria friends — keyboardist Carrie Ferguson and drummer Larry Ferguson — they loved the songs, and they started filling out their arrangements.
The trio released a self-titled cassette in 2013 through garage-rock powerhouse Burger Records. The tape earned them acclaim, but the band wanted their next release on vinyl, so they moved to Austin-based 13 O'Clock Records.
McNabb wants "I Found You Out" and its B-side, "When You Go," to be the first in a series leading up to an LP. On wax, of course.
"Burger [isn't] focused on vinyl as much as cassettes," McNabb says, and vinyl is "where I want to be right now."
The Beginner's Mynd plays Sept. 21 at Comet Ping Pong. "I Found You Out" and "When You Go" are released on vinyl Sept. 22, and available on Bandcamp now.