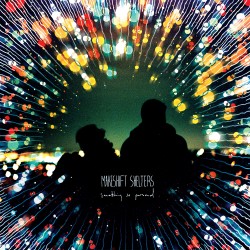 This post has been updated.
Last month, Bandwidth's Ron Knox predicted that D.C. emo-punk band Makeshift Shelters could grow into one of D.C.'s biggest rock exports, starting with its forthcoming debut LP, Something So Personal. Thursday the band premiered the first track from that album, and sure enough, it sounds like it's got enough gas in the tank to take the band far beyond the D.C. punk scene.
"Opposite Directions" premiered yesterday on AbsolutePunk.net. Right away, it sounds like a beefed-up version of Makeshift Shelters' best songs so far — melodic enough to satisfy any pop nerd's sweet tooth, but toughened up with chugging riffs and an F bomb lurking in the track's hook.
Something So Personal arrives Feb. 24 on Broken World Media, and it's available for preorder now on fancy colored vinyl and CD. Update: Hear more tunes from the album on Makeshift Shelters' Bandcamp page.
Read our recent feature on Makeshift Shelters.
Warning: Explicit lyrics.