This Saturday, seven new D.C. bands with names like King Donut and the Road Sodas, IRL Stine and Jerkhole will take the stage at St. Stephen's Church. For all the bands on the lineup, it'll be their first gig, and probably also their last.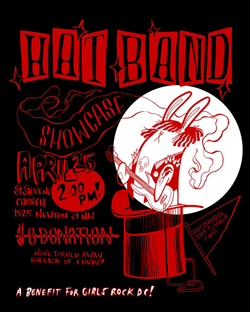 The randomly formed groups — composed of both seasoned musicians and newbies — have been playing together for a little more than two months as part of Hat Band, a project devised by Shira Mario, a library associate at D.C. Public Library.
Here's how Hat Band came together: In February, 31 participants threw their names into a figurative "hat" via an online form. After indicating their music experience and preferred instruments, they were filtered into seven different bands of three to four people each. Those bands spent the next couple of months figuring out an act.
Finally, this Saturday at the Columbia Heights church, the hat bands will make their grand debut. They all get 10 minutes to play, and they're each required to perform at least one original song.
Proceeds from the show will benefit music education group Girls Rock DC!, where Mario volunteers.
Mario, 29, was inspired to organize Hat Band after participating in similar events in Richmond and Philadelphia — but she also says she felt driven by what she sees as monotony in D.C.'s punk and indie music scenes.
"D.C. is a place where people play in the same types of bands over and over again and don't break out of their comfort zone," Mario says. "Other people want to play music but need a push. This is a fun, quick creative project to help bring those types of people together."
Noel Schroeder, 28, one of two guitar players in Wood Bone Kitten (the name was drawn out of a hat, much like the band itself) hadn't played in a real band since high school and was looking for something that forced her back into it.
"I wanted to create something with people of different abilities, interests and backgrounds," Schroeder says. In its first practice, the group played covers of Green Day's "Basket Case" and a Sleater-Kinney song, and they started working on an original. She says she felt lucky to have been matched with her bandmates.
"I've already learned a lot from them about writing and performing, and it's helped me to pick my skills back up, much more than if I were just playing alone," Schroeder says. She adds that she hopes her band lives on beyond Saturday's Hat Band gig.
Mario, who expects most groups to play some form of punk music, finds it fitting for Hat Band proceeds to benefit Girls Rock DC!, because the two share a similar philosophy.
"Empower yourself to play music," Mario says, "and in doing so, shake things up, build confidence and have fun."
The Hat Band DC show takes place April 25 at St. Stephen's Church.