With her natural and vibrant flow, it would seem that D.C. emcee Aye Yo Smiley — real name Marisol Alcalde — has been spitting since birth.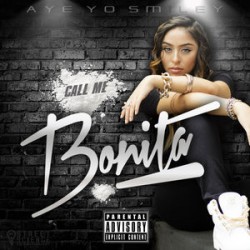 But it wasn't until her 17th year that the Columbia Heights resident started taking rapping seriously. Already experienced with poetry and writing lyrics, she found herself influenced by Maryland rapper Logic after hearing one of his early mixtapes. That's when she went searching for older hip-hop records.
"I was like a modern-day crate digger, you know, dusty fingers and all," says Alcalde, now 22.
Fast forward a few years — after playing TLC's CrazySexyCool repeatedly and posting videos of her freestyles and remixes on YouTube — and Alcalde has her own mixtape Call Me Bonita, released in July.
Call Me Bonita is restless; Alcalde's flow rolls nearly nonstop, and it's almost miraculous that she has any breath left to sing. She does that, too, and sweetly — but it's her rapping that makes the tape. Her verses are quick and nimble, like the sharp jabs of a boxer. The tape's seven tracks span a range of moods, from giddy in love ("What's Ya Name") to sharp-eyed and critical ("F**k A Hook").
Warning: Explicit lyrics.
"It's music you can bump to, but it also has substance," says the rapper, who earned the nickname "Smiley" as a kid. "You don't always have to have a hook."
As she says on her song "Plan B," Alcalde has no other plans but to make music. She hopes to explore more songwriting in Spanish, too, with another mixtape in the works.
Flashing a grin that's true to her nickname, Alcalde adds, "I just want to touch hearts, and let females and Latinas know that they can do it, too."
Aye Yo Smiley performs Sept. 4 at Fillmore Silver Spring and during Fiesta DC, taking place Sept. 19—20.